Because time isn't always kind: economic reviews in a world full of waste!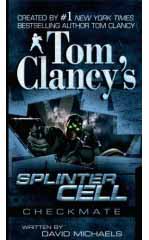 After two fun adventures, why is TOM CLANCY'S SPLINTER CELL: CHECKMATE such a crashing bore? The third in a series written by David Michaels, CHECKMATE once again features middle-aged badass superspy Sam Fisher, field operative for the U.S. secret agency Third Echeleon. This time out, terrorists have poisoned an entire town in New Mexico, so Fisher moves in to quash the threat before it spreads any further. But unlike the previous books, the novel deals heavily in technobabble and gives the short shrift to Fisher's personal life, which before had kept things interesting. And moving. Perhaps worse, Berkeley has sought to up the retail price to $9.99 – utterly ridiculous for a mass-market paperback – just because it's tall and skinny.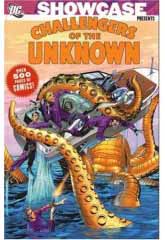 Collecting the first 17 issues (and then some) of the 1950s DC Comics title, SHOWCASE PRESENTS CHALLENGERS OF THE UNKNOWN: VOLUME 1 strikes me as the equivalent to the B-movies of the same era: much more enjoyable in theory. Partly the creation of legendary artist Jack Kirby, the Challengers are four men – a jet pilot, a diver, a circus daredevil and an Olympic wrestler – who almost die in a plane crash; this somehow results in them deciding to don purple jumpsuits to fight alien menaces together. Whether you're a giant robot, a giant octopus or a giant statue, the Challengers are ready to kick your ass … in the dullest manner possible. It pains me to say it, but these guys' adventures are simply boring, overwritten word-wise and underwritten in the department that would make me care.
Your college not among one of the cool ones to teach things like vampire cinema? Then act like you're taking a correspondence course with Bruce A. McClelland's SLAYERS AND THEIR VAMPIRES: A CULTURAL HISTORY OF KILLING THE DEAD as your guide. It's all about those fearless vampire killers, from Abraham Van Helsing to Buffy and in between. But this is no entertainment puff piece, but a serious, scholarly look at the role of these characters in literature, with explanations as to their religious and metaphorical signficance, all tied in to real-life cultures and countries. If such a sober approach to an often loosey-goosey subject interests you, take a stab at it. If the very thought of footnotes sends shivers down your spine, however, withdraw and take the incomplete.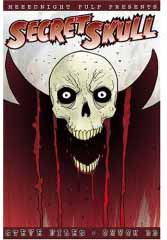 SECRET SKULL was the first in Steve Niles' "Meeednight Pulp Presents" series, whatever that means, and he's lucky it wasn't the last. Although conceptually and visually very cool, this is one thin comic, and I don't mean in measuring the spine. The Secret Skull is an anti-hero, a costumed vigilante who kills bad guys before they have a chance to be bad, thanks to some very prescient dreams. Chuck BB's art is good and gory in its own cartoony way; trouble is, the first issue (there were four) is downright confusing, and once things are cleared up, there's not enough meat on the bone to give it much flavor. I'm not panning it, but it's a disappointment compared to Niles' other work; I think it would've been outright frustrating to have read this in single-issue format. –Rod Lott
Buy it at Amazon.
Discuss it in our forums.
OTHER BOOKGASM REVIEWS OF THESE AUTHORS:
• BIGFOOT by Steve Niles, Rob Zombie and Richard Corben
• THE CRYPTICS by Steve Niles and Benjamin Roman
• DAWN OF THE DEAD by Steve Niles and Chee
• FUSED by Steve Niles
• THE NAIL by Steve Niles and Rob Zombie
• 30 DAYS OF NIGHT: RUMORS OF THE UNDEAD by Steve Niles and Jeff Mariotte
• TOM CLANCY'S SPLINTER CELL by David Michaels
• TOM CLANCY'S SPLINTER CELL: OPERATION BARRACUDA by David Michaels