Because time isn't always kind: economic reviews in a world full of waste!
Now you can appreciate Gothic art in your own home without having to be a Marilyn Manson fan or a cutter, thanks to Jasmin Becket-Griffith's GOTHIC ART NOW. An unlikely coffee-table book, it collects the best paintings, sculptures, photographs and other illustrations from a misunderstood and marginalized genre. Remove all preconceived notions and stereotypes (like my opening sentence) and you're left with some stunning work that has the power to disturb and delight. My favorites include the cutie-pie drawings of Tara McPherson, the ALIEN creations of H.R. Giger and Anne Yvonne Gilbert's pen-and-ink take on FRANKENSTEIN. This isn't just the stuff of Ministry album covers and Tim Burton's family albums, but art — yes, art — deserving of more respect.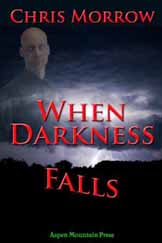 I don't know whether it was intentional, but Chris Morrow's WHEN DARKNESS FALLS reads like his tribute to 1980s horror films. Just look at the list of ingredients: campers, topless sorority girls, bikers, hitchhikers, bikini models and Something in the Woods. They all collide in a brief tale of blood, boobs and all things bitchin' in this e-book, which, at less than 40 pages, is really just a short story than even a novella. It could use some stronger for-errors editing, but is obviously a quick read that knows what to do with its elements enough to deliver a dose of trashy, flick-ready fun. And for a mere $1.79, you cannot lose.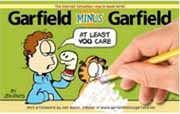 GARFIELD MINUS GARFIELD makes Jim Davis' ridiculously popular comic strip something it hasn't been for me since I was in grade school: funny, and something I'd want to read. Spurred by Dan Walsh's meta "Internet sensation," this slim book reprints roughly 100 Garfield strips, only without the lasagna-loving fat cat. That leaves human Jon to his own lonely existence, talking to himself and generally appearing like an excellent test case for a daily Prozac/Xanax cocktail. You can compare each to the original, which shows how removing one cloying character — the strip's very being — results in unintentional brilliance.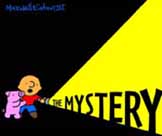 About the only readers who'll be perplexed by Maxwell Eaton III's THE ADVENTURES OF MAX AND PINKY: THE MYSTERY will be its core target of 4-to-8-year-olds. But a whodunit is not really the point. This simple story — part children's book, part comic book — entails a barn that gets repainted in the dead of night, so Max — who looks like the love child of Charlie Brown and Ziggy — and his pet pig Pinky set out to uncover the culprit. This results in amusing bits of questioning perps (poor, innocent groundhog) and a farm-animal lineup — unconventional for this type of title. Cute, and not the least bit nauseating. —Rod Lott