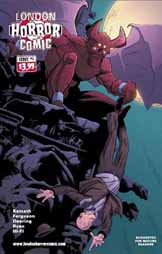 John-Paul Kamath is editor of LONDON HORROR COMIC, which has now jumped ship from the webcomics arena to its full-fledged, old-fashioned, printed-on-paper first issue. Here, BOOKGASM talks with Kamath about what the comic has to offer today's horror fan and how much of it is informed by yesteryear efforts.
BOOKGASM: First of all, I'm curious about the name LONDON HORROR COMIC. It's very generic, almost like a descriptor, and yet it tells you exactly what it's about. Why did you choose that title over the more sinister-sounding names as others usually lean toward? Did you consider any others?
KAMATH: You're the first one to pick up on the choice of name. Yes, it was indeed a conscious choice to have something that explicitly signaled what the book was about. LONDON HORROR COMIC lets people make a quick decision about whether it's a comic for them. There are walls of comics vying for the attention of readers. Having a name which makes it clear to people what they are getting before they even pick it up was essential for letting horror fans know that this was a book for them.
The choice of title owes a lot to the way old black-and-white horror films were titled. A name like FRANKENSTEIN MEETS THE WOLF MAN does the audience a service. If seeing Frankenstein fight a wolf man is not what you want to see, move on. Otherwise, stay and get your fill.
BOOKGASM: What does LONDON HORROR COMIC offer today's reader?
KAMATH: It offers readers the widest mix of horror genres in one 32-page book. You've got comedy-horror, psychological horror, traditional ghost stories, gore — all wrapped up in self-contained stories. No other book offers that range. It's like picking up four comics in one.
The other interesting thing about the book is that although it is an anthology, we have the same creators working on all stories. In other anthologies, you have different teams working on different stories, so the challenge for us as writer and artist is adapting our own styles to make each story work. That's tough. It's a bit like performing a rapid costume change backstage as we move from story to story.
For example, if I have a gift for graceful narration, then I can't fall back on it if I'm writing a fast-paced action story about vampire hunters. It won't fit. So I have to push myself as a writer. The appeal for the reader lies in seeing how we pull off each story, just as much as reading the stories themselves. You don't get that with many comics.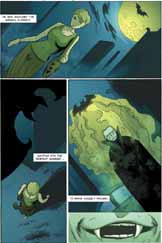 BOOKGASM: What were your influences in creating it, and at the same time, how do you differentiate yourself from those?
KAMATH: The main influences were comics like CREEPY and EERIE much more so than TALES FROM THE CRYPT. EERIE and CREEPY were horror comics made for horror fans, rather than comics that happened to be about horror. The editorial teams at these magazines were conscious that their readers were going out and watching the latest horror films and reflected that in the selection and tone of their stories.
With CREEPY and EERIE, you didn't only get stories about zombies coming back from the dead for revenge, or stories where somebody "really turns out to be a vampire" on the last page. Readers were given stories that framed horror in a different light in each issue. That's something I wanted to do with the LONDON HORROR COMIC.
I think what sets this book apart, though, is that while the look of the book and artwork is very American with clean line work, the stories are quiet European. You don't get straightforward morality plays where good wins and evil is punished, even if the look of the art suggests you will. It's like a nightmare drawn beautifully, and I think that makes it more scary than if the art had been intentionally dark.
BOOKGASM: If horror anthologies are considered a tough sell, why start a new one? Do you think there's a built-in audience for them?
KAMATH: If you look at the success of books like THE WALKING DEAD, 30 DAYS OF NIGHT and MARVEL ZOMBIES, then there is clearly an appetite for horror comics. At the moment, I don't think that horror as a genre is as well-represented as, say, the superhero or crime genres are in comics. So launching a new title that tells only self-contained stories and focuses only on horror seemed something of a necessity in the market place.
One of the reasons I started the LONDON HORROR COMIC was because I liked horror, but couldn't find a comic like it on shelves. A piece of work is good if it springs from necessity. In the nature of a comic's origin lies its judgment.
BOOKGASM: Do you think generating scares through the graphic medium is easy or difficult to do? Why?
KAMATH: Making people feel scared in comics is difficult, but it can be done. To scare people using comics, you have to spend time building up the world and characters within the mind of the reader — to make it seem more real than watching a film. You don't, for example, have the luxury of turning down a soundtrack and then blaring it right up when someone jumps out in the dark, like you do in film.
You also don't have physical actors experiencing pain; you have drawings of people. But if you build the world of your horror story and characters in just the right way inside your reader's mind, then that's something that stays with them long after they put down the comic. That's how you go about getting the biggest scares.
BOOKGASM: What are your immediate plans for the title, in terms of a publishing schedule and wider distribution?
KAMATH: We publish each issue quarterly and have worldwide distribution through Diamond. We have no plans at the moment for any trade paperbacks, but issue 2 will be out in March 2009. —Rod Lott
OTHER RECENT BOOKGASM AUTHOR INTERVIEWS:
• Q&A with THE MAX's Jason Starr
• Q&A with SEVERANCE PACKAGE's Duane Swierczynski
• Q&A with SLY MONGOOSE's Tobias Buckell