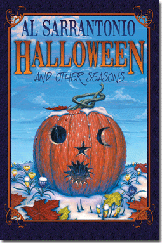 Some names are just synonymous with the holiday of Halloween: Michael Myers. Jason Voorhees. Freddy Krueger. Al Sarrantonio. Wait, what? Yes, Al Sarrantonio, author of a slew of short stories and novels set in the fictional town of the Halloween-friendly unfriendly town of Orangefield, including the new Cemetery Dance collection HALLOWEEN AND OTHER SEASONS. Here, the author talks with BOOKGASM about that world, his work in non-horror genres, and what to expect next.
BOOKGASM: What is it about Halloween and your fictional town of Orangefield that compels you to keep revisiting it?
 
SARRANTONIO: What's not to like about Halloween? It contrasts the innocence of a children's holiday with the grimmest subject matter of all: death. An incredibly rich and vast palette for any writer to work with.
BOOKGASM: How many more visits to Orangefield do you have in you?
 
SARRANTONIO: I'll probably be writing about Orangefield for the rest of my writing career, though perhaps not another novel for a bit. HORRORWEEN, HALLOWS EVE and HALLOWEENLAND made up a trilogy of a sort, and I'm letting that rest for now. But I've already published a short story based there this year, and there's another one on the way. The wonderful thing about creating a town is that in a sense, you own it. You are the mayor, police chief and town historian, and can do anything you want with it.
BOOKGASM: Although you're primarily known for horror, you also write sci-fi and other genres. Do you find one to be more of a comfortable fit for you? Do they require different approaches in your work process?
 
SARRANTONIO: I've been very comfortable wearing all the hats I've worn, but my first love is and always will be horror fiction. Which is quite odd, because my first love as a reader was science fiction. But after basically flunking out of engineering school 35 years ago — I was asked, "Shall we push you, or would you like to jump?" — I discovered that the hard sciences did not come easily to me. My science fiction — I've written two trilogies in the genre, FIVE WORLDS and MASTERS OF MARS — has consequently been more science-fantasy oriented, influenced by Bradbury and Burroughs.
BOOKGASM: You've also distinguished yourself as an excellent editor, behind some of my all-time favorite anthologies, including 999 and FLIGHTS: EXTREME VISIONS OF FANTASY. Any plans for more?
 
SARRANTONIO: Oh, yes. The wonderful Neil Gaiman and I are co-editing a big genre-as-literature anthology at the moment. That will be published by Morrow. And I've just finished up the first of what I hope will be a continuing series of horror anthologies titled PORTENTS, which will attempt to follow in the quiet horror footsteps of Charlies L. Grant's SHADOWS. Out in 2009, and the lineup includes Joyce Carol Oates, Gene Wolfe, Joe Lansdale, Ramsey Campbell — 19 in all.
BOOKGASM: What else can we expect from you in the immediate future?
 
SARRANTONIO: Working in the short realm at the moment, with stories due out all over the place. And there's an original Halloween poetry anthology which I've edited due soon, as well as a signed limited edition, with beautiful interior artwork, of my 1989 horror/SF werewolf novel, MOONBANE.  —Rod Lott
OTHER RECENT BOOKGASM AUTHOR INTERVIEWS:
• Q&A with LONDON HORROR COMIC's John-Paul Kamath
• Q&A with SLY MONGOOSE's Tobias Buckell
• Q&A with VAMPIRE ZERO's David Wellington
OTHER BOOKGASM REVIEWS OF THIS AUTHOR:
• FLIGHTS: EXTREME VISIONS OF FANTASY edited by Al Sarrantonio
• HALLOWEENLAND by Al Sarrantonio
• HALLOWS EVE by Al Sarrantonio
• HORRORWEEN by Al Sarrantonio
• 999: TWENTY-NINE ORIGINAL TALES OF HORROR AND SUPSENSE edited by Al Sarrantonio