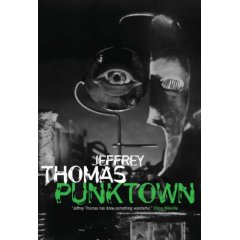 I have tried to rewrite this review two or three times to not come off like a drooling fanboy, but it's impossible. When I get this excited about a book, I can't help but go into geek-spasms, trying to push it on everyone around me. And here at BOOKGASM, like the heading says, it's "reading material to get excited about," so I guess I'll be fulfilling that quotient in spades. Clean up behind you.
A few months ago, I reviewed the novel A NIGHTMARE ON ELM STREET: THE DREAM DEALERS, written by a promising talent named Jeffrey Thomas. His take on the Freddy Krueger legend was original and went places that various other adaptations never had really gone before. It actually had me going out to find anything else by this author, wanting to make sure this was no fluke.
After reading his latest, PUNKTOWN, I'm certain it was no fluke. If anything, Thomas is the best author I've discovered in the past few years. A collection of science-fiction stories revolving around the decaying, futuristic, otherworldly Earth colony of Paxton (called Punktown by it's inhabitants) on the planet Oasis, Thomas has created a whole world – a melting pot of nightmarish aliens and their blood-soaked practices, distraught humans with incurable diseases and a total snapshot of a civilization on the brink of total ruin. It's stories like these – wholly unique and without equal – that make me reaffirm my love of the genre.
And it's a love that admittedly sways quite often. I get burnt out on the genre, more than any other. Too many books rely on so many formulas that have been reiterated over and over again. I don't want books about quests for technological treasures or altered timelines with dragons or square-jawed smugglers fucking alien princesses. They bore me. Give me dystopic futures, alternate histories or explorations of alien worlds that don't tell a story as much as they go into great depth about the social and historical aspects of said alien world. Those are the science fiction books that matter to me.
And PUNKTOWN seems to deliver it all. Every story is slightly connected, effortlessly interweaving each person's story of trying to live day to day in this city, all dealt with an amount of pathos for the characters and their plights, no matter what a prick he or she might be. In "The Reflections of Ghosts," an artist who creates masterpieces from clones of himself finds a love most masturbatory, while in "Wazikashi," a man of Japanese decent learns that his culture is just as strange to the alien around him as theirs are to him.
"Union Dick" and "The Pressman" explore the labor culture of Punktown, where robots have all but taken over, making man obsolete. Disease runs rampant in "Pink Pills," as a ailment called "the orb weaver" deposits a bowling-ball-sized pearl somewhere on your body, while in "Unlimited Daylight," a human woman finds love with a diseased member of the Tikkihotto, whose numerous, tentacle eyes slowly are being eaten away.
PUNKTOWN is a futuristic TALES OF THE CITY, mingling pure humanity with a sense of shocking perversity, never going in directions that you think it might and constantly changing any impressions you had of what science fiction could do. PUNKTOWN is what makes sci-fi great: transcending those boundaries, culminating in a masterful beast all its own. –Louis Fowler
Buy it at Amazon.
Discuss it in our forums.
OTHER BOOKGASM REVIEWS OF THIS AUTHOR:
• A NIGHTMARE ON ELM STREET: THE DREAM DEALERS by Jeffrey Thomas