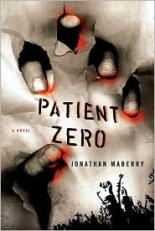 Jonathan Maberry attempts to combine the popular elements of a contemporary political thriller with the equally popular elements of a horror novel in PATIENT ZERO. It's a something-for-everyone approach that risks sacrificing one type of genre characteristic in favor of the other. But guess what? Maberry pulls it off.
Joe Ledger is a highly skilled Baltimore police detective assigned to a counterterrorism task force. As the novel opens, he is taking a break at the Ocean City beach, recuperating from an exercise two days prior where he fatally shot and killed Javad Mustapha, a known Islamic terrorist. But his relaxation is interrupted by two FBI agents who escort him to an unnamed location. Suddenly, Ledger finds himself in an interrogation room with Javad Mustapha, who is still very much alive.
Or so it seems. Ledger manages to kill Mustapha again and only then is informed of what is going on and why he is needed.
Mustapha, it is revealed, was carrying a virus that reanimated him after death, essentially turning him into a zombie. The Department of Military Science — the ultra-secret, rapid-response U.S. security group that abducted Ledger — have concluded that Mustapha is "patient zero" of a new bioterrorism disease. Ledger is enlisted into the DMS to immediately lead a team into the areas the DMS suspect are additional outposts for the eventual use of the zombie virus.
 
Meanwhile, in a hidden facility in Afghanistan, a seasoned terrorist who calls himself El Mujahid ("fighter of the way of Allah") is planning an assault on America using the zombie virus, which they call Seif al Din ("Sword of the Faithful"). His wife, Amirah, is the beautiful and brilliant scientist who has developed the virus and is continuing to make it work faster and more effectively. Their operation is financed by Sebastian Gault, international pharmaceutical developer renown for his aid to underdeveloped nations. But Gault is also Amirah's lover.
 
Ledger and his quickly recruited team of black-ops specialists hit a facility suspected of developing the virus. Then, when security is compromised at their home base, Ledger and his DMS commanding officers conclude that there is a mole among their team. But there is little time to flush out the mole, as they soon discover that the virus is being strengthened and they also uncover what may be the terrorist plot to finally utilize Seif al Din.
 
In less skilled hands, this could have become a slap-dash NIGHT OF THE LIVING DEAD JIHADS. But Maberry, already an experienced horror novelist, obviously did his thriller homework, infusing the story with equal parts political intrigue and suspense, along with enough scientific backing to convince readers of the validity of the zombie drug and how it alters those infected.
 
The narrative switches back and forth from Ledger's first-person narration of his events and observations, to the third-person action of the El Mujahid, Gault and Amirah. And generally, Maberry keeps the pacing brisk with only a few moments of overly long exposition.
 
Maberry also demonstrates an overall strong grasp of his main characters. There are moments, however, when Ledger's competence is a bit hard to swallow, and his task force team members repeatedly pumping themselves up with choruses of "hooah" and "fuckin' A" gets tiresome. But all is forgiven and dismissed as the last third of the novel becomes a race against time and a full-bore page-turner.
 
PATIENT ZERO deserves to be Maberry's breakthrough work. He promises more from Ledger. And with luck, Maberry's imagination will involve Ledger in situations as inventive and capably executed as this series debut. —Alan Cranis
Download a free PATIENT ZERO prequel short story.

"His mouth opened and I could actually see his chest expand as he drew in a sharp breath in order to scream, but Top rose up lightning fast and kicked him hard in the solar plexus with the tip of his steel-reinforced left shoe."