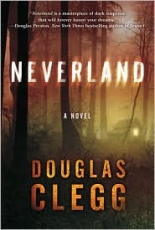 Following the success of ISIS, Douglas Clegg has not disappointed with NEVERLAND. This haunting novel — no pun intended — tells the story of a group of children on a family summer vacation on Gull Island. They form a kind of club, centering on an abandoned shack in the yard of their family's retreat, no grown-ups allowed.
This simple concept forms the foundation of a waking nightmare, in which the children, led by the oddest of cousins, Sumter, begin praying to an unseen god, stealing and lying at the god's command, and ultimately being making sacrifices. Each indiscretion builds, each theft larger than the last, each sacrifice worse than the previous, until Sumter's imagination takes this imagined club — Neverland — out of the realm of the clubhouse and out over the entire island.
With astounding clarity, Clegg creates a world of children completely separate from that of the world of adults. These kids have not yet crossed over into the world of adulthood, but are astute enough to see the pain, lies and unhappiness in the lives of the grown-ups around them.
This perspective is emphasized by Clegg's choice of narrator: a young boy named Beau, who follows Sumter in these wicked adventures, but questions them along the way. Beau struggles to understand the difficulties of adulthood, the unhappiness of his parents, aunt and uncle, and grandmother as he simultaneously tries to grasp Sumter's alternate version of the world, in which children can remain young forever.
Clegg's narration is subtle, but perfectly done, providing a well-chosen lens through which to see the waking nightmare that Beau experiences. Ultimately, Beau is left to choose between the horrors of growing up and the horrors of Neverland, alone in a world where the lines between imagination and reality are consistently blurred. Lovers of horror and terrifying fiction are sure to enjoy another well-done novel from Clegg, and those unfamiliar to the genre of horror fiction will find his work a creepily satisfying place to start. —Kerry Serini
OTHER BOOKGASM REVIEWS OF THIS AUTHOR:
• FOUR DARK NIGHTS by Bentley Little, Douglas Clegg, Christopher Golden and Tom Piccirilli
• ISIS by Douglas Clegg