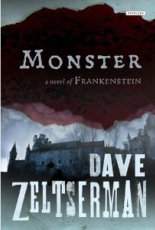 Everyone is familiar with the story of Victor Frankenstein and his monstrous creation, be it from reading the actual source material of Mary Shelley's classic novel or the countless adaptations and variations on film.
But we have only gotten half the story. Thankfully, Dave Zeltserman gives us a much-needed perspective: that of one Friedrich Hoffmannn. If that name is not familiar, it's because most people know him by his other name: the monster. And MONSTER is a reimagining of the Frankenstein mythos.
The book opens with a brief prologue with Hoffmann dispelling what Victor Frankenstein related to that ship's captain all those years ago. Then we are dropped into the story, with the creature first opening his eyes and unsure of where he is — perhaps in some sort of purgatory. (If only he knew the horror that was to come.)
Hoffmann gives a brief rundown of events that lead to his fate of being jailed and tortured to death, and now wants revenge. We follow the creature as he encounters groups of varying degrees — not to spoil anything for readers — with it all building to the showdown between the creature and creator. Once there, the truly evil plot that Frankenstein has been working on with his compatriot, the Marquis de Sade, is revealed.
MONSTER is Gothic horror that pulls no punches — a brutal ride through a hellish tale. You're not only rooting for Hoffmann throughout, but wish you could jump into the pages and take a few swings at some of the characters. The final portion explains why the creature finally decided to explain his side of the story.
Zeltserman has really outdone himself with this novel. For those only familiar with his modern crime writing, you're in for a shock. This one is sure to win over a whole new audience of readers, as well as challenge some big-time horror authors to up their games.
So run out or click the link below for what is likely one of the best books of 2012, and probably one of Zeltserman's very best, which is saying something considering how hard it must be for him to top what's come before. —Bruce Grossman