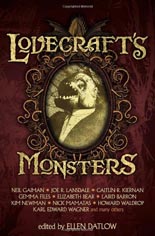 You're probably thinking: "What? Another Lovecraft-inspired story collection?" Indeed it seems every year brings more collections of original and reprinted stories demonstrating H. P. Lovecraft's enduring inspiration and influence on horror authors.
So what distinguishes LOVECRAFT'S MONSTERS? Well, for one thing, it's edited by Ellen Datlow, one of the most knowledgeable, prolific and reliable genre anthologists working today. Then there's the overall approach which, as the title indicates, focuses on Lovecraft's monsters rather than the larger view of his created mythos. And finally, it's beautifully illustrated too.
In the introduction to this, her second Lovecraftian anthology, Datlow states her goal in selecting the stories: avoid pastiches; use stories that have not been overly reprinted in the many recent anthologies; and showcase authors not generally known for such stories. As a result her newest collection has a list of contributors and stories strong enough to tempt those readers who would otherwise avoid Lovecraft or his many protégés.
The collection opens with Neil Gaiman's "Only the End of the World Again," where Gaiman blends horror movie themes with Lovecraft as Lawrence Talbot – still suffering from his age-old and familiar curse – is used by the residents of Innsmouth to usher back an Elder God.
Joe R. Landsdale also borrows from sources outside of Lovecraft in "The Bleeding Shadow." Using the myth of blues legend Robert Johnson as its basis, Landsdale tells the story of Texas musician who sells his soul to a Lovecraftian god in exchange for extraordinary talent, and now must use his music to ward off the god from taking his life.
Laird Barron uses the first-person narration of a Pinkerton detective in "Bulldozer," a turn-of-the-century story of how the agent suffers the consequences of turning in an elusive killer who might also be an Elder God in adapted human form.
Thomas Ligotti, whose pessimistic cosmic horror stories were recently credited as one of the influences of the haunting and acclaimed HBO series TRUE DETECTIVE, contributes "The Sect of the Idiot," a subtly stylized story of a strange, unnamed town and the transformative hold it has on its residents.
Included also are two short but evocative poems by Gemma Files, "Jar of Salt" and "Haruspicy." Both are dedicated to Lovecraft and, in the second poem, also to author and fellow contributor Catlin R. Kiernan.
Highlighting each story, and the entire collection as well, are the superb original illustrations by World Fantasy Award-winning artist John Coulthart. Using the content and style of each story as his foundation, Coulthart creates ornate black-and-white renderings that are worth lingering over for as long as any of the stories they accompany.
An opening essay by horror scholar and Editor Stefan Dziemianowicz shows how Lovecraft used his monsters – with their grotesque appearance and names nearly unpronounceable to the human tongue — to separate his stories from the folklore and myth-based horror stories that he felt were ineffective for contemporary readers. Following the stories Datlow dutifully provides a brief biography and listing of notable works by the contributors, which includes Kim Newman, Howard Waldrop, Karl Edward Wagner and others.
So gently move that collection of Lovecraft's stories on your bookshelf, along with however many collections of stories inspired by Lovecraft you already own, and make room for LOVECRAFT'S MONSTERS. Thanks to the many and varied contributors gathered together by Datlow's editorial expertise and enhanced by Coulhart's illustrations, this is an anthology that you'll certainly want to add. —Alan Cranis