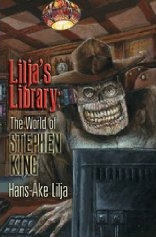 One of the better, more comprehensive websites dedicated to Stephen King is Lilja's Library, at www.liljas-library.com, run by Sweden resident Hans-Åke Lilja. Rightly assuming you'd prefer to sit for hours on end on your couch, rather than in front of a computer screen, Cemetery Dance makes it easy for you to catch up on all the content with LILJA'S LIBRARY: THE WORLD OF STEPHEN KING.
At more than 500 pages, the book is crammed with previously published reviews and interviews on all things King, from page to screen and in between. Not only does Lilja interview King himself a couple of times, but other creative types involved with him, whether collaborators Peter Straub and Stewart O'Nan, SECRETARY OF DREAMS illustrator Glenn Chadbourne, THE MIST director Frank Darabont — hell, even KINGDOM HOSPITAL regular Ed Begley Jr.
Lilja reviews a huge chunk of King's published work, from novels to short stories, and even audiobook editions, with the section on THE DARK TOWER novels among the most detailed and interesting. Various motion-picture and television adaptations are covered as well, including every season of cable's THE DEAD ZONE series.
Lilja goes the extra mile by also covering the "dollar babies" — those student films based on King's work, for which the author sells the rights for $1 — and other assorted ephemera. Clearly, the man is passionate about his subject. His writing style is more conversational than purely critical — example: "So, how is this book? Well, I liked it!" — but passion goes a long way when you consider the title is geared specifically toward fans as huge as he.
For that crowd, for whom King eternally remains the king, LILJA'S LIBRARY comes recommended. —Rod Lott
Buy it at Amazon or Cemetery Dance.