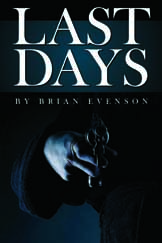 Here at BOOKGASM, we pride ourselves on covering some books to which the normal mainstream press would not give a second look. Brian Evenson's LAST DAYS, without a doubt, would turn a few stomachs if covered by those literary snobs. This novel is officially the weirdest tale I've covered here, and that's a good thing — a profoundly great, disturbing read.
Originally a 2003 novella called THE BROTHERHOOD OF MUTILATION, the book deals with a detective named Kline, who lost a hand due to "the man with a cleaver," as he is referred to. That is all the information we are given about this previous case, with Kline's injury just a stump he self-cauterizes before killing his assailant. It's at this point we join the story, when he starts receiving strange phone calls from two men who want to hire him, with the idea of opportunity knocking loud and clear.
Kline keeps rejecting the offers until the men show up in person and pretty much force him to join them. It becomes apparent they also have a few issues with body image, since one is also missing a hand, as well as wearing a fake ear. Once they arrive at their destination of a strange, out-of-the-way compound, Kline still doesn't understand why he was chosen for some sort of investigation that even his two captors are not sure of.
He is told he is to meet one of the top men of this compound the next day. It's then explained this place is actually a religion/cult of self-inflicted amputation. The more limbs and body parts you are missing, the higher you are in their eyes. The reason Kline was brought along is not only because he is missing his hand, but because he did the cauterization himself, which is looked upon as a great sacrifice amongst this group.
If you're still with me, just order the book already, since it only gets weirder. We're talking truly bizarre, where in this world, a strip club literally means take it all off, as Kline witnesses. They have bizarre parties where everyone gets dressed up as a member cuts off more body parts as some sort of celebration. I've yet to even mention the case Kline is supposed to investigate: that of cult leader Aline, who has been killed and had his heart stolen. But of course, it all has to be kept quiet to the point where Kline can't ask questions of anyone.
It all leads to a bloody climax — which was the end of the novella — before moving into the second half of LAST DAYS, dealing with the aftermath of events. To go into great detail would ruin it, but there are still plenty of weird goings-on to keep readers glued, including an offshoot cult where all the members are named Paul, and Kline getting some unexpected help from these men for their own truly warped reasons.
The latter part builds upon the mythology of the novella, with Kline coming to the only logical conclusion. Evenson is truly an original writer who seems as though he is writing like some bizarre visionary. His writing is truly a combination of the films of David Cronenberg and Guillermo del Toro, but VIDEODROME and PAN'S LABYRINTH have nothing on this, that's for sure. I would not be surprised if this got picked up by one of them as some pet project, since it's that type of audience that will not only eat up this type of writing, but would probably cut off their own arms for a copy. —Bruce Grossman