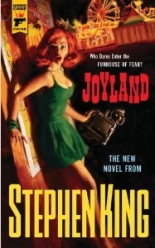 For many, Stephen King's "The Body" (part of his collection DIFFERENT SEASONS, so memorably adapted to film as 1986's STAND BY ME) is like a hypodermic full of nostalgia jammed straight into the heart. In a story that both conveys and creates a deep sense of loss and longing, King makes you feel the rich potential and the real pain of being young in the summer of 1960 — even if you weren't young then, or alive.
His new novel, JOYLAND, will be to such fans — and maybe a host of new ones — a glorious return to his glorious returns, a reminder of his artistry in tapping that moment when youth stumbles away from romance into realism.
Devin Jones, stung by a breakup, takes on summer work in a North Carolina amusement park. While there, he finds hidden talents and catches the first glimpse of the man he's going to become, while grappling with a haunted Haunted House, a never-captured murderer, and a mother and son who need his help.
But while these out-of-the-ordinary plots propel the book, King is as much invested in exploring the park day-to-day. Dev wrestles with the particularities of his gig at Joyland, and King delights in the arcana of the job. He showboats with the argot (much of which, he admits in an afterword, he made up); he zeroes in on the feel and perils of "wearing the fur" (putting on a character suit) in the mid-summer Southern heat; he creates a tangible sense of 1973 via a panoply of pop-culture head-nods and digressions.
Despite its Hard Case Crime frame and lurid cover, this novel lacks the vicious kick of his scariest or most brutal tales. Its ghost, its serial killer, are hooks to get the rubes to take the ride. But once you're on the ride, he'll take you places you didn't expect.
King is, for better and at times for worse, a helluva carnival barker. He promises entertainments that are overdetermined and almost tawdry in their sensationalism; he shamelessly deploys the hokiest of conventions and melodramatic plot devices; he falls prey to ham-handed spelling-out of his big themes and ideas.
For instance, King never met a mawkish moment he didn't feel obligated to milk. The aforementioned son is not just dealing with a divorced, unhappy mother — he's terminally ill. And vaguely, conveniently psychic.
However, like the greatest pop entertainers (or with dazzling carny confidence), he does so with a deceptive precision and craft that packs a real wallop. King embraces his sentimentality, which he tempers with tough-minded reflections on pain, death, anger. There are two moments that had me stunned, emotionally undone despite the fact that I saw the guy on stage gesticulating extravagantly, tugging at our heartstrings.
At his best, and this is one of his best since the underrated BAG OF BONES, King collapses distinctions like sad or horrifying, sentimental or soberingly incisive, crude or complex, generic or literary. JOYLAND, like the best of King, reveals horror's ability to capture a deep vein of real pain and suffering in the human experience. —Mike Reynolds