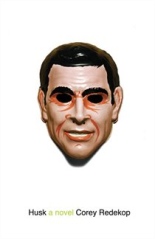 Anne Rice once said (and I'm paraphrasing) that she writes a story from the viewpoint of the monster. Then she went on to write a bunch of crappy books.
We, the horror reading public, had been saturated with zombie novels to the point where it had begun to look like the well of ideas had run dry. But just when you think they can't do anything different with a well-mined premise, they come up with a twist: zombie romance stories, zombie war epics, zombies vs, superheroes, zombies as superheroes … and so forth.
One such twist is the zombie as sympathetic main character, with the story told from the its viewpoint. Scott Kenemore's ZOMBIE, OHIO and S.G. Browne's BREATHERS: A ZOMBIE'S LAMENT are examples, as is HUSK, the latest novel from Corey Redekop, the Canadian author behind 2007's acclaimed SHELF MONKEY.
HUSK tells the tale of Sheldon Funk, a 37-year-old washed-up actor (his latest audition for a BIG BROTHER-type reality show was an epic misfire) who suffers from money troubles, agent troubles, boyfriend troubles and issues with his mother. But Sheldon's real troubles begin when he wakes up on an autopsy table — in mid-autopsy, mind you.
Sheldon has died and come back as a zombie. He doesn't know this, at first, but simply wants to put his insides back where they're supposed to be and get home. There's a brief struggle with the terrified coroner while Sheldon attempts to replace his removed organs — which is a mixture of gross-out horror and comedic slapstick — and, with his chest cavity bound haphazardly together, he stumbles out into the wintry night.
Did I say that his troubles had just begun? Well, there's the hunger that he can't seem to abate with food and water. There are the memory issues he's having as Sheldon's brain is firing on missed cylinders (what with him being technically dead and all). There's the decomposition of his body to contend with.
Oh, and then there's the audition in the morning that Sheldon's agent definitely does not want him to miss. So basically, his life sucks, then he dies, and then it gets worse.
Redekop's novel is equal parts dark humor, horror and the pathos of having all of your best years behind you, with only the satisfaction of snacking on human flesh ahead of you. It's an Augusten Burroughs memoir crossed with NIGHT OF THE LIVING DEAD. It's also very well written and deeply, disturbingly funny.
HUSK has one other fine distinction going for it: It's the last zombie novel I'm going to review. I'm glad it was a good one. —Slade Grayson