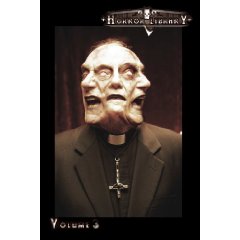 From the good folks at Cutting Block Press, HORROR LIBRARY: VOLUME 3 is notable for a couple of reasons. For one, it is not unified by any overt category, like stories about zombies, vampires or so on. Nor is it a "best of" roundup of previously published works. Rather, it is a collection of original stories by numerous authors, all obviously devoted to the genre, and presented under the subtle but classy banner of HORROR LIBRARY.
Equally subtle is the general theme of the collection, as introduced in the form of a story by editor R.J. Cavender and support editor Boyd E. Harris, titled "La Vese Las Manos." After presenting narrative recaps of some recent contemporary dangers and disasters, the editors state the point that some of the most frightening events are the result of our unconsciously placing our lives in the hands of others.
And this is demonstrated by most of the tales that follow. While some include hints of the supernatural, most are grounded in reality settings that take unexpected turns into the weird or, in the more effective works, the horrifying.
 
Standouts in this group of 29 include "Ashes of the Dead" by Kurt Dinan, where the apprentice of a man who gathers the bodies of dead animals for incineration must rethink his views of death when he and his boss are called to dispose of unearthly but spiritual being. Or "Short Stacked" by Rodney J. Smith, which details a poker game where life is literally at stake, vaguely recalling Fritz Leiber's classic "Gonna Roll the Bones."
Also, "Under the Bridge Downtown," tag-teamed by Gary A. Braunbeck and Matthew Warner, proves a chilling account of a man's ambiguous feelings about the death of his disabled pre-teen daughter. Notable as well is "When the Skies Toss Down Rain Heavy" by Eric Grizzle, a moody, well-sustained story about two brothers, their mother and an ominous rain puddle.
Several stories in the collection peter out at or before the ending. Others start strong, but then lose sight of their premise. Yet, even with such shortcomings, there is such an impressive variety of settings, characters and plot situations, as well as an abundance of earnest effort, to make them all worth reading. None feel dashed off or phoned in.
 
The contributors are mostly veterans of the many small publications and anthologies little-known outside the genre, while a few — like Braunbeck, Warner, Bentley Little and John Everson — have published novels to their credit. As such, their works here deserved to be read and their previous works sought out.
 
One more thing: Chad Michael Ward's striking cover art of the possessed priest wearing an inverted cross is sure to cause stares from those around you on the bus or in the waiting room. So practice that demonic smile of yours. —Alan Cranis
OTHER BOOKGASM REVIEWS OF THIS SERIES:
• HORROR LIBRARY: VOLUME 2 by R.J. Cavender