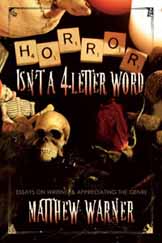 All genre fiction is not derivative. That's a tenet on which this very site was based, so our appreciation for Matthew Warner's HORROR ISN'T A 4-LETTER WORD: ESSAYS ON WRITING & APPRECIATING THE GENRE shouldn't come as a surprise.
Most of this slim trade paperback is comprised of columns he penned for HorrorWorld.org, including advice to fellow authors on collaboration, plotting and crafting dialogue. At this point, you may be saying to yourself, "Wait a second — I haven't even heard of this guy, so why should pay any attention to what he has to say?" Because he makes sense.
One of the more entertaining pieces has Warner dissecting dialogue from an early draft of Brian Keene's CITY OF THE DEAD and the published version of J.K. Rowling's HARRY POTTER AND THE PRISONER OF AZKABAN to show how so many authors do it incorrectly. At least Keene's problems were fixed; Rowling's are pretty embarrassing ("There! Are! Shitloads! Of! Exclamation points!" Warner notes).
As proof he can write himself, Warner includes a short story of his own, "With the Eyes of God," about a man who has grown up with the "gift" of peering inside the minds of others, to see their darkest secrets. He doesn't include it for show, but to illustrate how he successfully broke a taboo in it, and from where his idea spurred.
Other interesting articles touch on free speech, why we shouldn't sanitize fairy tales, the pitfalls of author-created websites, the horror of schizophrenia and even a defense of the original LEFT BEHIND novel. But the chapter that makes 4-LETTER WORD every bit worth the purchase price is its longest, detailing Warner's 1995 summer internship as an editorial intern for a firm that eventually was sued by the state of New York for defrauding consumers out of millions of dollars. Although he thought his job was strange at the time, he couldn't quite put his finger on why. It all became evident after he was fired, and it's one of those long, incredible stories that just seems too strange to be true, yet is.
No matter what the subject, though, Warner is quite the amiable host. I have no aspirations to write a horror novel, but I found myself reading the book cover to cover anyway. —Rod Lott
OTHER BOOKGASM REVIEWS OF THIS AUTHOR:
• EYES EVERYWHERE by Matthew Warner