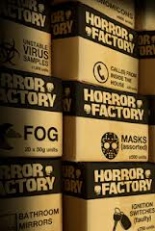 It's quite possible that the short stories collected in HORROR FACTORY are superb. I just haven't read them.
No, the sole reason I purchased this Crime Factory special was for its nonfiction content, all relegated to the back half of the oversized paperback, except for Liam José's interview with Jack Ketchum. That Q-and-A opens the 238-pager, and while Ketchum (as always) has interesting things to say, the interview already was dated by the time of the book's release this past Halloween.
José's chat with Joe R. Lansdale appears later, and Lee Gambin provides the book's other Q-and-A with filmmakers Lawrence D. Cohen and Tommy Lee Wallace, who speak about the challenges in adapting Stephen King's IT for the TV miniseries format. They, too, share stories worth reading (even if they can't agree on which network their project even aired).
Cameron Ashley turns in the best piece of the bunch with "Monsters Within, Monsters Without: 10,000 Pages of Kazuo Umezu," an appreciation of the Japanese horror manga giant; I share Ashley's enthusiasm, which prompted me to pull my three-years-bought copy of REPTILIA off the shelf and read the damn thing already.
Other essays, however, on late MANIAC star Joe Spinell and Clive Barker's Harry D'Amour character, left me feeling wanting more, as if not quite fully formed.
Most disappointing was the Nerd of Noir's (aka Peter Dragovich) double-feature review of the films MARTIN and [REC], because his style struck me as an annoying mix of fanboy and high school newspaper, with a literal inability to finish a paragraph without relying on variations of "fuck" or "shit."
I'm all for profanity with a purpose, which this is not. I'm not sure what it is, but, unfortunately, its kind floods the Internet and reads like a transcript from a drunken bar conversation rather than actual criticism. The run-on sentences and misspelled names are low on its list of problems.
A sampling: "Which is why we next pop [REC] in after MARTIN and let that shit fucking pin you to the couch in terror. … I was legitimately…startled, let's say, during numerous scenes of [REC] (just a squirt or two of piss in my shorts — I fucking swear!). … Shit, I don't even care if you quote me, dear reader, do whatever you need to do to avoid watching those pussy-assed snore fests."
Despite a lineup of attractive subjects, HORROR FACTORY doesn't deliver on enough of them to merit a recommendation. Again, the 10 pieces of short fiction may be another story. Regardless, the book's design is visually unpleasant, with spacing issues that, on one line, may cause several words to appear as one, and on another line, have so much space between two words that more of them could be inserted. Some of the photos also are low-resolution, thereby printing heavily pixelated. Widows abound.
This is a real shame, because I think the book's cover by Nathanael Scott may be the coolest designed I saw last year. —Rod Lott