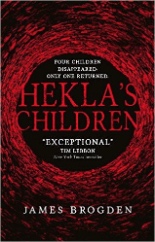 James Brogden's book HEKLA'S CHILDREN is a deeply unsettling and complicated work, layering an intriguing mystery with a thoughtful fantasy topped by a screeching horror tale that may or may not be allegorical, but is chilling and memorable.
The mystery begins when young Nathan Brookes is leading a small troop of four adolescents on an orienteering hike through a large British park. There should be no danger involved and so Brookes lets his charges roam on ahead and he takes a shortcut to meet up with them. He sees the group in flashes and then they disappear. They are not where they are supposed to be. All four youngsters have vanished.
Organized searches for them are fruitless. The next day, one of the children reappears, disheveled, dehydrated, unable to say or unwilling to say what has happened to her friends.
As readers discover in story jumps and dislocations, the children managed to tear through a seam in the universe, and they went from our world to the world of Un, in this case a Bronze Age version of our world. This may sound a lot like the Netflix series STRANGER THINGS, and there are significant parallels, but Brogden is not being derivative.
Instead, he is creating a fantasy world of alternate universes, guarded and protected by mysterious spiritual beings, and threatened by equally mysterious demonic creatures. The seam in the universe was ripped open by the archaeological discovery of a bog mummy, one of these spiritual beings that had been the guardian of the path between present-day Earth and Bronze Age Un.
The disinterment has weakened the protective strength of the guardian, and thus the demon can find a way between the two worlds as well. And it is this play of horror that fills the last third of the book, as Brookes attempts to stave off the destruction, then becomes part of it.
The author has a smooth style with realistic dialogue (even with the difference between adults and adolescents) but his plotting and explication can get a little confusing at times. His characterization of Brookes is tricky because the man is difficult to really like, but it's a reflection of the character's own self-disgust. I'm also not sure of the coherence of these alternate worlds, but it's not something you think of while reading. It comes to you later, while you are reflecting on the book and its action, and to be honest, there are not a lot of fiction books that cause one to reflect days after reading. That, in itself, is an accomplishment.
If you like your fantastic worlds mixed with horror, HEKLA'S CHILDREN may be just the book for you. —Mark Rose