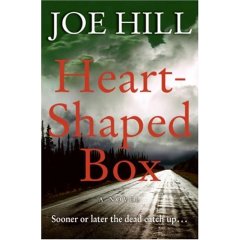 Joe Hill's debut novel, HEART-SHAPED BOX, arrives on a tsunami-sized wave of hype that suggests the reader is about to experience the Second Coming of Horror Fiction. It's inevitable, given that Hill is Stephen King's son. (And while it's admirable for him to work under a pseudonym, would he really have received booking on Good Morning America otherwise?)
What you get when you open BOX is not a masterpiece, nor even a work of uniform excellence. It is, however, an exceedingly well-written and wonderfully imaginative ghost story that proves that the talent to unsettle and entertain indeed runs through the genes. It didn't knock my socks off, but I suppose it made them damp with perspiration.
If there's ever an argument against buying crap on eBay, it's this book. Middle-aged rock star Jude Coyne has a collection of peculiar artifacts in his farmhouse home, so when he sees a woman selling "my stepfather's ghost" on an online auction site, he bids to win. What he doesn't realize – until it's too late, that is – is that the deal was all set up for him only.
The womanizing Coyne, you see, is being blamed for the apparent suicide of one his past love-'em-and-leave-'em flings, so her sister sells him the suit belonging to her beloved departed stepfather. It comes with a ghost attached, and that spirit is a vengeful one.
The setup sounds awfully labored in summary, but Hill makes it strangely believable. Perhaps it's the description of the ghost having black scribbles for eyes that makes it work, as it's an image that stays with you long after the last page.
Once tragedy strikes, Coyne and his current gal pal, Georgia, make a break for it, hoping they can lose the ghost. That proves impossible. At first, the interstate chase clunks along narratively before kicking in to maximum overdrive. It's a little too much of the same ol' thing early on, but Hill remedies this the further away our protagonists get (or try to get, as the case may be).
If the final confrontation is too easy and the ending too abrupt – and they are – you're still left with a tale of the supernatural that proves worth telling. In short stories and in comics, Hill has emerged as a young writer to watch, and in this full-length debut, he solidifies that reputation. His language is rich, even verging on literary, and many lines are oddly moving. Dad, you may have some serious competition. –Rod Lott