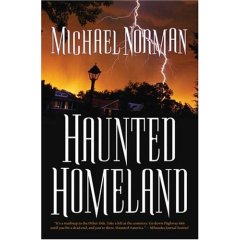 I'll be the first to admit that I believe in the possibility of ghosts. In fact (and go ahead and laugh, but you might want to try this yourself), whenever I've lost something, I'll even go so far as to politely ask the ghosts who might be hanging around to help me find it. Even if I've ransacked a room looking for it, as soon as I ask for their assistance, it's almost always guaranteed that I'll find what I'm searching for in the very next place I look. Somehow, it never fails to work for me … and it creeps me out everytime.
Anyway, with that said, I'm very open to anything having to do with ghosts, spirits, and the whole "life after death" thing, so HAUNTED HOMELAND seemed like it would be right up my spiritual alley. Basically, it's a collection of ghost stories from every state in the union (plus Canada), told through anecdotes by people who have experienced the hauntings … or who have at least heard the stories from other people who have experienced the hauntings. Everybody knows that when it comes to ghosts, it's not in the seeing, but in the telling. A good ghost story should make you jumpy whenever you hear a strange noise, even if it's just the cat leaping off the counter. It's all in the storytelling.
And that's where I have a bit of a problem with Michael Norman's book. The research is impeccable and extremely well done (and as a researcher, I know how difficult it can be to gather information on subjects that aren't exactly mainstream), and the idea of the book is exciting and interesting, but the actual storytelling left me as cold as the ghastly touch from the hand of one of the shambling dead.
The research seems to inhibit Norman as a writer; he's so busy trying to include all the dates and details that he doesn't grab hold of the actual story and try to make it scary. In an author's note, he clearly states that some incidents have been dramatized, so why not go all out and really play up the mood and atmosphere? Instead, he writes in a more scholarly, detached way that gives all the necessary facts and figures, but none of the flash.
So who might enjoy this book? People who are more interested in folklore and regional history, most likely. Norman has done his homework, and all the research and investigation he undoubtedly did for this book is right there on the page. It's an interesting work, and is fine for the casual dabbler in paranormal phenomena. Anyone hoping for anything remotely scary or disturbing, however, needs to keep on looking. Try asking the ghosts to help you find it. –Rebecca Brock