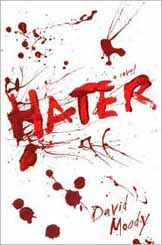 Perhaps the best way to describe HATER — David Moody's heavily hyped debut — is that it's a zombie novel, minus the zombies.
In present-day Britain, there's a plague of sorts — small at first, before it quickly spreads — in which a person suddenly turns aggressive against everyone else, perfectly content with expressing rage and violence and even cold-blooded murder against a public innocent, all without being provoked. It's a condition that causes a teenager to bludgeon an elderly woman to death, or a surgeon to slash up his patient, mid-vasectomy. In other words, you don't want to be on the receiving end.
The escalating madness is witnessed by our mild-mannered narrator, dysfunctional family man Danny McCoyne. He's a drone in the city parking office, working one of those jobs so miserable that he watches the minute hand of the clock, willing it to go faster. He and his wife have three kids, none of them planned.
There's another thing they didn't plan on: the collapse of society as the so-called "Hater" population grows and grows, infecting so many that schools and stores close their doors, and families are forced to hunker down in safe rooms, à la NIGHT OF THE LIVING DEAD. It's at this point — roughly just after the halfway point — that HATER really tweaks with your nerves.
Then Moody pulls a fast one that absolutely puts HATER on a different set of rails — one that's really exciting … only to culminate in what I consider to be a cheat ending. Yes, HATER is merely one book in a forthcoming trilogy. He could have left the story completed as is; unless he's got something really twisted up his sleeve for the next installment, I'm afraid sequels are going to dilute its power. For instance, I like the fact that the cause of the rage is pretty much unexplained. That's far more chilling than whatever explanation lay ahead. —Rod Lott