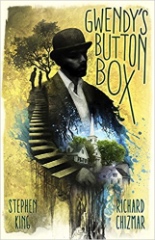 GWENDY'S BUTTON BOX sounds like it should be a soft-core porn story, but then you see Stephen King's name on it and you know it's something much more sinister.
Tired of being teased about her weight, 12-year-old Gwendy Peterson is spending the summer of 1974 by climbing the stairs from Castle Rock up to Castle View. Nicknamed the "Suicide Stairs," the trek up the cliffside is a tough one, but Gwendy is starting to see some results. Then one day at the top of the stairs while attempting to catch her breath, Gwendy is greeted by a man in a black coat and hat. The man is one of those mysterious strangers that pop up quite a bit in King's literary universe, and much like the other strangers King writes about, this one is quick to offer his name: Richard Farris.
Mr. Farris has an offer for Gwendy. He wants to entrust her to take care of a button box, which is exactly what the name implies: a box with rows of colored buttons and two levers. The levers dispense silver coins or chocolate treats, depending on which one you press. The buttons? They do terrible things.
Gwendy, of course, becomes the caretaker of the box (because if she didn't, we'd have a much shorter novella). Over time, the effect it has on her becomes noticeable. She's different, changing both physically and mentally. The box exudes power. More than that, it influences Gwendy, and not always in a good way. And then Gwendy decides to test the power of those strange buttons…
GWENDY'S BUTTON BOX by Stephen King (you know who he is) and Richard Chizmar is a quick little story designed to kill an afternoon – or at least a few hours. It's a good summer read in that it flows along like a breeze and doesn't really expect much out of the reader. It's like one of those summer mega-budget blockbusters that glut the movie theaters and don't promise to do much else than make you forget your problems for two hours. "Come on in," the movie posters seem to shout. "Enjoy our air conditioning and turn off your overworked brain for a while!"
The problem is, and I admit that this is probably solely my issue, when you watch a lot of movies (or read a lot of books), you come to expect more for your money. You see a lot of the same things. You travel the same roads from beginning to end, and see the same character arcs and plot points. The twists that surprise the average viewer/reader don't affect you because you see them coming a mile away. Or you can think of much better twists or plotlines. In a way, you become jaded, I guess.
GWENDY'S BUTTON BOX is chock-full of good ideas, but never really develops them. What is the box and why is it entrusted to Gwendy? Who is Mr. Farris and why does he seem to be angelic at some points, and demonic at others? What are the moral ramifications of a preteen being given god-like powers? And just what the hell is the point of the silver dollars anyway? I could go on…
Much of King's tropes are on full display here: The wise-beyond-her-years child protagonist; childhood nostalgia; the childhood bully that grows up to be a psychopath; the side characters that talk way, way too much; the constant foreshadowing; and of course the King connected universe. All of it is good stuff, mind you, but what's missing is King's patented follow-through. He almost never leaves a subplot unfinished, and he usually wraps up his stories with an explanation for the cause of everything, even if it's something lame like, "It was aliens."
GWENDY'S BUTTON BOX feels like it was planned to be a longer work, but was wrapped up prematurely. It's not a bad read, but what's frustrating about it is that the reader gets the sense it could have been a great one. Sure, if you only read two books a year and you're looking for something to occupy a ninety minute plane flight, you'll most likely find this novella to be both entertaining and surprising. If, like me, you read a lot and you are looking for something to really sink your teeth into, you're going to finish this story feeling nearly as empty as you did when you started.
As much as I criticize King's works, I admit he has a talent (although he rarely utilizes it anymore, preferring to rely on his tricks and tropes), and Chizmar definitely has a talent, as evidenced by his short story collection (A LONG DECEMBER). The hope when two talented authors collaborate on something is that they will bring out the best in each other. I think what happened here was the opposite. King and Chizmar amplified each other's weaknesses.
Look, if you're a die-hard King fan, it doesn't matter what I say. You've already preordered this one and are prepared to love it no matter what. Hell, King could scribble his name on a haiku composed on a bar napkin and it would sell a half million copies.
However, if you want something Stephen King-esque and much more entertaining, then I recommend A LONG DECEMBER, Richard Chizmar's collection of short stories. Although every story isn't a home run, there are plenty of great ones therein. And every single one of them is better constructed than GWENDY'S BUTTON BOX. —Slade Grayson