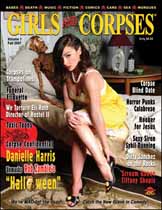 America's favorite humor-laden, rotten-to-the-bone, maggot-infested spank mag is back, bigger and better than ever. That's right: it's Girls and Corpses #2. What does it say about me that I can't get enough of this publication?
Issue two is an even more polished affair, with current HALLOWEEN hottie Danielle Harris on the cover, in a 1940s pulp pose, next to a realistically freaky corpse. She's interviewed inside as well. Other pieces include an article on funeral etiquette ("Don't order pizza"), interviews with HOSTEL II writer/director Eli Roth and B-movie actress Sybil Danning, and a how-to on dating a corpse.
But inarguably, the best article is "Hooker for Jesus," which I'm ashamed to say is completely like it sounds: a very entertaining and interesting piece about Annie Lobert, a prostitute who found Jesus and, in a moment of divine inspiration, decided to combine the two. Hallelujah!
Like the first issue, Girls and Corpses #2 is a hilarious bit of satire, taking the scantily clad pseudo-porn of Maxim and Stuff, and taking it way over the line in a brutally comic way. It's a brilliant parody of that culture, with enough offensiveness and mixed-necro-messages to traumatize any child who would pick it up accidentally.
To me, that's always the mark of a great read. –Louis Fowler
OTHER BOOKGASM REVIEWS OF THIS SERIES:
• Girls and Corpses #1