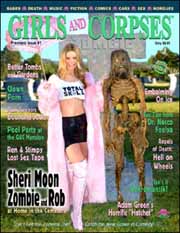 "Hey, you got your corpses on my girls!"
"Well, you got your girls on my corpses!"
And that was the conversation that I imagined had to be the impetus behind the sickly comical new mag Girls and Corpses, which, in case you couldn't figure it out for yourself, is all about hot girls cavorting with musty ol' dead bodies. It actually would be necro-whacking material if it weren't so damn funny. (Granted, I'm sure there are a few necros who do spank to it.)
Straddling that fine, fine, fine line between brutal tastelessness and hilarious misogyny, Girls and Corpses is very much a throwback to the humor mags of the late '70s/early '80s, with a very pointed, sarcastic (and at times ironically corny) POV that recalls some of the best issues of National Lampoon.
In the premiere issue, cover girl Sheri Moon Zombie (insert boner joke here, or just insert boner) gives us insight into what it's like to be Mrs. Rob Zombie in a fun little interview, bathed between different pics of her frolicking in a cemetery.
We meet an embalmer named Steveo. We meet HATCHET director Adam Green. And, in my favorite piece, we meet Hollie Stevens, a sex actress who specializes in clown porn. Yep, clown porn – fucking a clown isn't just for serial killers anymore!
Stuffed in between, we also get tons of cheesy fake ads, some comics and lots and lots of pics of girls seductively writhing near a desiccated body. Hot stuff. (Or is that cold stuff?)
At more than 70 pages, Girls and Corpses easily justifies its $8.95 cover price, but one question remains: How long will the shtick last? Will the joke ever spoil? How long before this one becomes a stiff?
As an added bonus, be sure to pick up the 2007 Girls and Corpses calendar! C'mon – admit you've always wanted to freak out your co-workers with images of a busty chick getting spanked over Dead Santa's lap! I'm not alone, right, guys? Right? –Louis Fowler