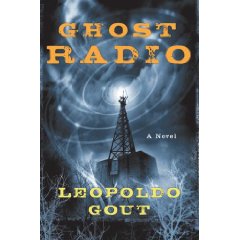 For something with such a cool title, GHOST RADIO is a bit of a disappointment. It marks the debut novel of Leopoldo Gout, who is an excellent artist and a good writer, but not the most inventive when it comes to plotting. He's also a protégé of James Patterson, who is rather effusive with praise on the cover blurb, comparing this work to early Stephen King. Don't set your expectations that high.
Joaquin is the host of GHOST RADIO, a popular show on the Mexican airwaves in which listeners call in and share their run-ins with the supernatural, thus allowing Gout to insert mini-stories within his story. Some are original, some are urban legends, and one involves fermented yak's milk.
The show is such a hit that a deal is struck to carry it throughout the United States. And that's where Joaquin's problems begin. In his previous gig, he served as one-half of the underground, experimental rock band Los Deathmuertoz with his good friend Gabriel, whom he met in the hospital when their parents' cars collided tragically. During a secret outdoor show, Gabriel is electrocuted to death, and those memories plague Joaquin.
One night, he broadcasts the tale — or "confession" — of that night, and his staff flips out. I fail to see the BFD, and that's one problem with the book: It's overly angsty, with emotions that don't seem genuine, except the confusion of Joaquin's part when he starts receiving unusual messages, even via Morse code from a helicopter. Soon, he can't distinguish between reality and fantasy.
What you think will happen does, yet it takes an awful long time to get there. Although the chapters are mercifully short, with many just two or three pages, GHOST RADIO goes nowhere but everywhere — it's all over the place. A novel told in the third person suddenly shifts to Joaquin's point of view, and then out, and then back again. Chapters don't take place chronologically, which further muddles any established air of mystery.
I always hate to dislike something to which I looked forward to reading, but about the only thing I enjoyed about the novel were the atmospheric illustrations that preface each chapter. Gout's work got under my skin, all right, but not in the manner intended. —Rod Lott