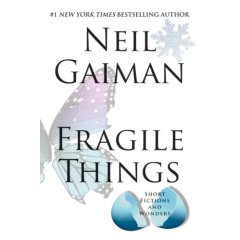 The only thing more amazing than Neil Gaiman's excellence in the short story format is that he does it so damned often. As if he weren't prolific enough in the arenas of novels, screenplays and comics, he seems to be a requisite and welcome part of every other genre anthology issued these days. If you can't keep up with them, no worry; every few years he'll collect them, sort them, recall them and issue them in a collection. He did it once with the beguiling SMOKE AND MIRRORS: SHORT FICTIONS AND ILLUSIONS, and now he does it again with FRAGILE THINGS: SHORT FICTIONS AND WONDERS.
There are 31 pieces here – many of them award winners and a few of which I had already read before in books like FLIGHTS, 999, MCSWEENEY'S MAMMOTH TREASURY OF THRILLING TALES, THE MAMMOTH BOOK OF VAMPIRES, NOISY OUTLAWS… and THE MATRIX COMICS.
It both begins and ends with excellence: respectively, the Sherlock Holmes/H.P. Lovecraft pastiche "A Study in Emerald" and the AMERICAN GODS novella "The Monarch of the Glen" (if ANANSI BOYS wasn't the GODS sequel you wanted it to be, this totally is).
In between you get a slew of the good stuff (save for a few skippable poems and Tori Amos-related nonsense): a Ray Bradbury-esque story contest between the months of the year ("October in the Chair"), a self-referential parody of the Gothic format ("Forbidden Brides of the Faceless Slaves in the Secret House of the Night of Dread Desire"), a odd encounter between an unemployed man and the stranded anthropologist he aids ("Bitter Grounds"), a trip to a haunted circus ("The Facts in the Case of the Departure of Miss Finch"), a demented love story ("Harlequin Valentine"), a fictional malady ("Diseasemaker's Croup"), a otherworldly coming-of-age tale ("How to Talk to Girls at Parties"), a gory horror yarn ("Feeders and Eaters") and even the last book of the Bible (the single-page "In the End").
Discounting the BEOWULF-flavored "The Monarch of the Glen," my favorite of the tough-to-pick-from bunch is "How Do You Think It Feels?," a twisted take on the ol' doomed-lovers story, in which a very married man falls for a young, beautiful actress. Boy meets girl, boy loses girl, boy does unspeakable things to a clay gargoyle. The joy in reading a Gaiman story for the first time is that you aren't quite prepared for whatever wicked tricks he has up his sleeve. FRAGILE THINGS gives you a good two dozen or more shining examples from one of modern fantasy's absolute finest practitioners. –Rod Lott
Buy it at Amazon.
Discuss it in our forums.
OTHER BOOKGASM REVIEWS OF THESE AUTHORS:
• ANANSI BOYS by Neil Gaiman