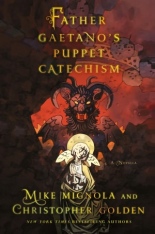 This follow-up to Golden and Mignola's collaboration earlier this year, JOE GOLEM AND THE DROWNING CITY, is smaller in format and, being a novella, noticeably shorter. With FATHER GAETANO'S PUPPET CATECHISM, Golden again takes the lead with the story itself, while Mignola contributes his distinctive illustrations to the dust jacket and interior pages.
 
The story takes place during World War II in the Sicilian village of Tringale. The war has turned the rectory of the Church of San Domenico into an orphanage for the many children who lost their parents. Father Gaetano is the newly assigned priest, and finds the responsibilities of the orphanage much greater than he imagined. For one thing, the children get restless during his Catechism instructions and quickly lose interest.
Then, one young boy's devotion to a small wooden puppet clown leads Father Gaetano to discover an entire box of puppets, as well as a small, elaborately decorated theater built by the church's former caretaker. The priest is enchanted by his find, and immediately redesigns the puppets as biblical characters. He then uses the puppets to perform the stories of the Catechism. The children are delighted and suddenly understand the Father's intended lessons.
 
But noises in the night cause the kids to discover that the puppets emerge from their box after dark and act out the Bible stories they earlier performed. Before long, the children see that the puppets take their role very seriously and believe the stories completely — and this leads to a deadly confrontation with Father Gaetano after one particular lesson.
 
For a story under 165 pages, the novella seems to take an inordinately long time getting off the ground. Most of the narrative introduces us to Father Gaetano, his struggle when finding himself attracted on one or another of the nuns serving at the church, and brief portraits of some of the children of the orphanage. Once the puppets enter the story, we get a familiar sense of direction, but the inevitable is still held off until well past the halfway point.
 
Golden weaves into the story a very brief portion of the history of puppetry. Ironically, a little more of this might have embellished the story and lead to a greater understanding of why the puppets assume their designated roles. As is, the narrative is an entertaining but altogether mild horror story with slim substantiation.
 
Mignola's black-and-white interior illustrations, following a full size accompanying the title page, are mostly small square inserts appearing frequently throughout the novella. Yet his use of stark contract and slightly expressionistic faces and figures — familiar to fans of HELLBOY and Mignola's other comics — gives each square the personality of an antique woodcut and perfectly enhance the work.
While not as strong or as satisfying as their earlier project, FATHER GAETANO'S PUPPET CATECHISM is still worthy of your attention and reminiscent of a time when such illustrated books were the norm, rather than an exception. —Alan Cranis