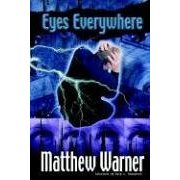 Everyone's out to get you! It's all a secret plot. They're after your kids and will experiment on them for evil purposes.
At least those are the major thoughts that run through protagonist Charlie Fields in Matthew Warner's EYES EVERYWHERE, a novel chronicling the total breakdown of a man who can no longer deal with reality.
It starts out simply enough in our post-9/11 world. Charlie works in a dead-end job for a law firm in Washington, D.C. Everyday, he is scared that they will just let him go. (Anyone who has toiled in the cutthroat corporate world will really relate to these scenes.) Charlie's suspicion kicks in right away when he is told a comment he made in a meeting reflects badly on him, leading him to believe he is first being followed, then constantly watched. Even when he is home with his family, he gets the feeling that his own wife is in on the plot.
Charlie builds up a paranoid fantasy in his head that is truly horrifying. Even though the book is told in third person, you're really only getting Charlie's point of view throughout. Slowly but surely, the madness in his head takes over; he leaves his family, takes all their money and tries to start a new life in a new apartment. Once "settled," his obsession completely takes over his every waking moment, bearing awful consequences in situations which will just make you cringe. It's like FIGHT CLUB, but with no fights and no Tyler Durden.
Warner definitely has done some major research into paranoid schizophrenia and all its symptoms. But this also raises a burning question: To whom is this book supposed to appeal? While far from Oprah's Book Club material, it doesn't seem geared toward the suspense crowd, either. I guess people who want to watch a man slowly deteriorate before their eyes will grab at this, or maybe those with a psych background. But I've got a feeling it's going to be one of those books passed around like an underground classic. –Bruce Grossman