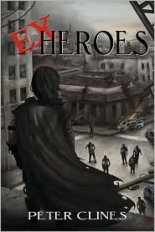 EX-HEROES adds to the growing ranks of post-apocalyptic zombie books filling the shelves these days. While it does not bring an entirely fresh voice to this popular genre, Peter Clines' novel is not unoriginal, and the premise is certainly an interesting one.
Set in Los Angeles after zombies have taken over the city — and, as far as we can tell, the rest of the world — EX-HEROES focuses on a group of superheroes protecting a small colony of human survivors, struggling to stay alive and make a future for themselves in zombie-land. Holed up inside Paramount studios, aka "the Mount," the small population relies on limited ammunitions and seemingly limited powers to stave off continued undead attacks.
Unfortunately for the residents of the Mount and their super-human protectors, the living dead (referred to as the "exes," short for ex-humans) are not the only threat to this survivor colony. Another group of humans has survived and is now led by the Seventeens, a notorious gang of L.A. When the zombies start showing signs of thought and intention rather than their typical aimless wandering, and the Seventeens plan an attack against the Mount to seek personal revenge on select superheroes, things take a turn for the worse.
Again, Clines' story is not unoriginal. It asks some big questions: In a world of zombies, how independent can one man be, and how much must he rely on others? What kind of hope is there in a world overrun by the living dead? How can any semblance of order be maintained in the face of the unbelievable?
Sadly, although the concept of the book showed excellent promise, EX-HEROES leaves much left unexplained and many characters undeveloped or completely forgotten. Limitations on the powers of the superheroes seem to vanish when in dire need, providing the author an easy out in saving characters lives, or not. Although the writing throughout the battle scenes is strikingly well-done — you can tell that Clines had a running image of each fight as he wrote it — dialogue and explanation throughout the rest of the novel suffer from poor editing and even worse copyediting.
Despite these flaws, lovers of zombie fiction are bound to enjoy the book, and those who might have only a passing interest in post-apocalyptic zombie novels — such as myself — will find themselves swept up in the story by the second half. Maybe not the best addition to post-apocalyptic literature we've seen in recent years, but an entertaining novel from an author that suggests a lot of potential. Let's just hope Clines' next work is slightly more polished, both in its original writing and by its editorial team. —Kerry Serini