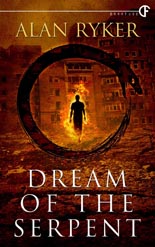 Some horror introduces a fantastic element into everyday life, producing shock and terror out of the intrusion. Some horror, however, simply peels back the skin to expose how close we are to terror at any given moment. Alan Ryker's DREAM OF THE SERPENT ultimately introduces the possibility of supernatural shenanigans — an inscrutable force from beyond, a secret society behind the veneer of civilization — but its most visceral impact comes from the author's initial compelling depiction of the consequences of an all-too-recognizable accident.
Cody is a driven business student on the cusp of major changes: He's the first in his working-class family to be getting a degree; he's a couple months from marrying his sweetheart; and that marriage opens the door to a big paycheck with the new in-laws' high-stakes investment firm.
The novel opens as Cody finishes a shift at the restaurant job where he's made ends meet during his studies. His fiancée, Madison, keeps calling to interrupt, wondering when he can get away to the country-club gala her family is hosting, and he's trying to calm her down, reassure about his arrival, when he misses a step. He forgets to turn off the fryer he's about to clean.
And everything, including his future, blows up.
The explosion savages Cody. Ryker's description of that experience of being burned is meticulous and moving. And the detail that follows — as Cody heads into emergency care, and on through the drawn-out process of recovery and rehabilitation in the burn ward — is devastatingly immediate. DREAM OF THE SERPENT spends time developing Cody's emotional and physical agony, not least his obsessive repetition of events, his furious exploration of what might have happened if only …
… and with the counterfactual — the possibilities of alternate histories — the novel turns on a dime in its second act, pulling the rug from under the reader. SERPENT's twisty plot is occasionally forced, and a stray sidebar around a gaming company that Cody's business seems poised to finance seems undercooked, like an alternate path through the novel's events that was left over from an earlier draft (but suggested some intriguing ways to further mess with readers).
Yet Ryker's care setting up Cody's predicament reduces such reservations to quibbles, and all that follows builds both conceptually and dramatically from that grounding in the realities of burn trauma. Cody's pain has burrowed under our skin and the stranger horrors that follow have an earned heft. DREAM OF THE SERPENT is another compelling, character-driven horror narrative from a talented writer (following his strong Kansas Vampires of the Plains duet). —Mike Reynolds