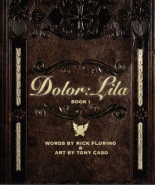 Horror fiction has put a few cities on the map: Castle Rock, Serenity Falls, Orangefield. Add Dolor to that list. According to Rick Florino's DOLOR: LILA — BOOK I, it doesn't matter where the town is, but where it's been.
In this short novel — as in, less than 50 pages — Dolor police officer Caleb Taylor is haunted by the memory of his dead daughter, Lila. An only child, she drowned at the lake, and Caleb has a recurring nightmare about being unable to save her. His grief is compounded by his drug-addled, good-for-nothing wife leaving him. Sitting at home alone one day, Caleb is startled by Henry's voice.
Who's Henry? Why, he's Lila's teddy bear.
Lila speaks through Henry, telling her father to "pay attention." Florino jumps between past and present to fill in the blanks surrounding her tragic death. It's full of clues Caleb has missed.
It's easy to get caught up in Florino's tale, not only because it adheres to storytelling brevity, but also because it has a rock 'n' roll sensibility to it, dishing out details of drugs, sex and violence. Even though the ending is curt, you've invested so little time to get there, it's not like you'll feel cheated.
LILA is the first of 10 planned books in the DOLOR series, and Caleb's story comes framed in a wraparound piece in which an FBI agent examines a charred home in Dolor and comes across 10 diaries, each penned by a different person. The first one he reads, naturally, is Caleb's. Essentially, all 10 novellas will comprise an anthology; I wish they were published in one volume.
For LILA, Florino commissioned artwork by Tony Caso to grace the pages, with at least one piece on every spread. It helps ease you through the book, crafting mental pictures so you don't have to, but I would have liked it more had it been consistent in presentation. For example, some look like unfinished sketches, while others are complete; some are drawn in pencil, while others appear outlined in Sharpie. —Rod Lott