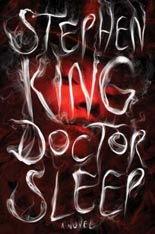 I wonder how many readers (and writers) began as worshippers poring over the word of Stephen King? Every September, a thick new book would be published, and the congregation would scramble for the latest gospel. I often tell my students that King made me an English major. I could as easily note that he provoked an abiding obsession with horror not just as escape, but as a complicated and rich genre demanding — and rewarding — study.
Or that he connected on a deep personal level. As the author Sherman Alexie has noted, King wrote about (and to) all of the kids who felt like losers (i.e., just about every kid, except for that one douchebag on the bus). His enormous empathy for his characters — even as, or maybe because, he put them through horrific experiences — shaped my sense of self, relationships, ethics and — no surprise — grief and anger.
What a ridiculous burden King now has to bear, though. Every new novel receives intense scrutiny to see if it captures some glimmer of that readerly investment earned over the course of such a phenomenal career. And, as King himself notes in an afterword, maybe no book of his resonates more powerfully with readers than THE SHINING: "Nothing can live up to the memory of a good scare, and I mean nothing."
And, of course, DOCTOR SLEEP doesn't. The scares in this belated sequel unnerve most intensely early on, when we're tracking a still-young Danny Torrance grappling with the aftermath of events at the Overlook Hotel. The ghosts of that violence literally plague the boy, until Dick Hallorann shows him another fancy trick he can do with his mind. But the ghosts don't go away as much as get locked in. Danny's safe, but there's little solace.
After this prologue in South Florida, we flash-forward as he drowns himself slowly in bouts of boozing and rage, picking fights at bars, sleeping with other lost souls. The book is terrifying — in more ways than one, and more on this in a second — throughout the first 100 or so pages. Then Danny hits bottom and begins to climb out of the pit. And as Danny gets sober, the story shifts from the unsettling haunts (of the Overlook and of alcoholism, of a terrifying family violence and the things we do to one another) to a more traditional Big Bad and the pace/plotting of a thriller.
Not that there's anything wrong with that. As he settles into a job in a hospice in New Hampshire, helping the residents let go of life, Danny senses — and King shifts perspective to introduce — two other other sets of actors. A child born near him, Abra, first shows her talents with the Shining as an infant, breaking into an unresolvable crying jag in the hours before the planes hit the towers on Sept. 11, 2001. Danny will connect with Abra (and form, in the familiar fashion, a band of misfits) to battle a troop of RV-driving psychic vampires, The True Knot. Led by the fierce Rose the Hat, the True cycle around the country, finding nourishment in the agonizing deaths of children flush with a powerful Shining. (They tend to help these deaths along.)
Cue the battle: Abra is True-bait, as her powers exceed anything any of them (or Danny) has ever seen. And the great bulk of the novel — and, it's Stephen King, so there's a great bulk to the novel — is the hunt, the hunkering down to fight, the pitched battle between the camps.
The book has a rich sense of character, although Abra can be a bit precious — where young Danny grappled with his power and events with the confusion of a sophisticated but naive innocent, Abra seems a bit more superpowered and a whole lot less complex. The same goes for Rose — as scary as any of the ghosts at the Overlook, but unable to rivet us the way Jack Torrance did. Still, DOCTOR SLEEP is a pacy read with King's trademark ability to shape suspense.
It's just not that scary. Or it externalizes and thus reduces the impact of the scary stuff. THE SHINING had a palpable sense of dread and discomfort, because we were locked in with characters who were locked in: to the hotel, and with one another, and with their own raw confused emotions. The evil imminent in the hotel was also visible in the ways Jack and Wendy and Danny interacted, and … well, it wasn't the ghosts that terrified me when I read that book. The external threat in THE SHINING amplified the horrors of home.
This occurred most vitally, most unnervingly in the characters of Danny and Jack, both of whom had rich, complicated inner lives that Reverend King traced with enormous empathy. DOCTOR SLEEP, early on, captures such empathic fear in Danny's self-doubt, his self-destruction — with the way he still feels locked in, unable to escape. As this follow-up opens up — with other characters, and in a cross-country battle — it picks up momentum (stuff happens), but loses a bit of force.
Still, it'd be hard for me to overstate my identification with Danny, then and now. King remains a vivid preacher, most compelling when he traces the way horror lives inside us. DOCTOR SLEEP is a rewarding return to one of his finest, most complicated characters, and for that alone fans (old and new) should gladly line up in the pews. —Mike Reynolds