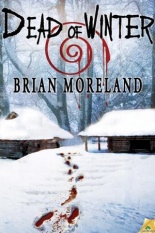 Brian Moreland's DEAD OF WINTER is set in the isolated wilderness of Canada during an especially nasty winter. It begins promisingly enough with the arrival of a malnourished, sickly young girl at Fort Pendleton, a fur trading post. The girl is apparently the lone survivor of an affliction that turned her family and friends into ravenous cannibals.
Naturally, the girl is sick herself with … whatever it is that turns the people into monstrous-looking creatures that exist solely to dine on human flesh, and of course, the men folk of Fort Pendleton are going to mount a search-and-rescue party to see if there are other survivors out there.
After all, this is 1878; no one has seen a zombie film or the RESIDENT EVIL movies that will become so prevalent in the next century or so. The person leading the team is Tom Hatcher, a former Montreal inspector who once captured Gustave Meraux, the Cannery Cannibal — Montreal's version of Jack the Ripper.
Gustave was the heir to the Meraux Cannery fortune (and probably calling himself the Cannery Cannibal was a dead giveaway to his identity, but hey, what the hell do I know?) and Hatcher packed his son off to the wilderness to keep him safe from possible repercussions from the Meraux family.
         
Hatcher leads a team to the Manitou Outpost to find out what happened to the young girl's family, and discovers carnage on a massive scale. Almost everyone has been wiped out, and those that are still alive are unlike anything he's ever seen: more monster than human.
This is where the book revs into high gear and the suspense ratchets upward. Once the settlers of Fort Pendleton discover that they are isolated, and that the monster-causing sickness is in their midst, there's a brilliant interplay of "Who's next?" to be killed or infected.
 
The Arctic wilderness has always been a brilliant setting for stories of man vs. nature, à la Jack London, or man vs. monster, like John Carpenter's THE THING (or any of THE THING movies, for that matter). It even worked for that cool first-season episode of THE X-FILES ("Ice"). And for a while, it works really well here, too.
The first half of Moreland's novel is tense and riveting, and there are some truly creepy horror scenes that harken back to the good ol' days of supernatural menaces — back when monsters were monsters, and weren't explained away by contrivances such as biological weaponry or viruses gone amok.
Where DEAD OF WINTER falters is in its insistence on trying to be a Gothic-style horror story rather than the slim, taut, action/suspense story it should have been. Moreland spends too much time on his cast of unlikable characters: Brother Andre, the Jesuit monk desperate to be a priest, yet tempted by pleasures of the flesh; Avery Pendleton, lord and owner of the fort, who basically beds every woman he comes across; Willow Pendleton, Avery's hot, young wife who lusts after Hatcher (and just about every other red-blooded male figure).
Even Hatcher, the so-called hero, is unlikable. He starts off as basically a dick who seems intent on drinking himself to death, and even when he's hit by tragedy and ultimately tries to clean himself up, the reader still finds out unsavory details about him.
Besides the long passages focusing on unlikable characters and overwritten aspects of the story, another annoying part is the mystery of whether the cannibal sickness is caused by something biological, or if it is related to demonic possession. At first, the mystery of whether there are supernatural spirits behind it all is intriguing, but Moreland drags it out too long, until ultimately, the reader doesn't really care anymore.
The author should have pared the story down and kept it to the monster-in-our-midst-and-we're-stuck-out-here-in-the-middle-of-nowhere type of story it should have been. I didn't care about the characters, and spending too much time with them just made it worse. I wish he had jettisoned soap-opera elements and just stuck to the monster stuff. Now that would have been something to sink your teeth into. —Slade Grayson
Buy it at Amazon or Samhain Publishing.