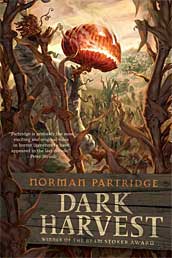 Whereas most everyone else is perfectly content bobbing for apples or handing out candy, the small Midwestern town of Norman Partridge's DARK HARVEST has a most unusual Halloween tradition: letting loose a pumpkin-headed scarecrow, whom residents try and kill before it can make it to the local church.
In this slim, speedy tale set in 1963, the race of the October Boy – flames inside his head, a knife in hand – is an annual event, to the point where it's considered a rite of passage for young men to participate in the gruesome hunt. But it's not so simple for first-timer Pete McCormick.
His dad is a drunk with employment troubles, and Pete questions the value of his town's tradition even if he's going to play to win. After all, doing so lets you escape out of town and to a better life in the big city. But what he doesn't know is the secret behind the October Boy … and that will change before the night is out.
With its mix of Washington Irving (folklorish creature come to life), Shirley Jackson (undeniably odd town customs) and Ray Bradbury (hard-on for all things autumnal), DARK HARVEST is well-rooted in the horror genre. At less than 175 pages, it's a cinch to get through, although even at that length, Partridge occasionally spins his wheels, trodding ground already covered.
Point of view switches between Pete, the October Boy and an omniscient narrator to keep things lively and on their toes. A breakneck climax goes a long way toward making those toes tingle. DARK HARVEST has the potential to be overpraised, but still I think it touches on themes so timeless – and delivers them in a story so captivating – that I think it will become a perennial favorite for horror fans each and every hallowed season. –Rod Lott