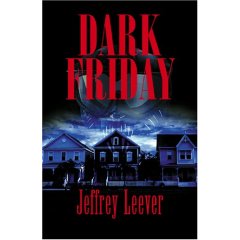 Recently, I simultaneously exercised my love for horror movies and my nostalgia for childhood by watching the FRIDAY THE 13TH: FROM CRYSTAL LAKE TO MANHATTAN box set, which contains the first eight Jason Voorhees – or is that seven or six, technically? – adventures on DVD. It was a kick to do, and had the fringe benefit of being a nice, inadvertent, frame-of-mind setup for Jeffrey Leever's DARK FRIDAY.
This is a novel that worships at FRIDAY THE 13TH's muddied feet. The fact that it's set in a town called Jasonville should be your first clue. Your next should be that its main characters – a handful of socially awkward high school boys – call themselves "the Order of the Friday." They meet weekly to watch and discuss a horror movie. After the book begins, they're finishing FREDDY VS. JASON, and talk about which girl in school they would kill if they had to.
It's strictly wish-fulfillment fantasy on their part. But then one dark Friday – hence the title – it comes true. A gaggle of girls are dispatched one by one by a quasi-Voorhees killer described as having black eyes, wearing a paintball mask and sporting quite the arsenal of tools. One of the boys is arrested quickly for the crimes, but is he really the culprit? Newspaper reporter Kevin Gibson intends to find out.
Whether intentional or not, Leever's novel turns out quite like one of the dead-teenager sequels its fanboys viciously debate: Some will hate it for its stock, serial-killer-in-a-can plot, while others will love it for that very reason. It's all a matter of taste. If the thought of watching, say, HALLOWEEN 4 pains you, avoid DARK FRIDAY; but if it gives you what my 10-year-old son calls "the piddlywinkles," grab.
I found it to be fun, but then I was prepped for nothing more. It's not high art, nor does it want to be, although Leever could gain from making his dialogue more believable. At times, it's belabored and even groan-inducing, but then, he's putting words into the mouth of teenagers, and in reality, they do so a lot of asinine things that make you want to punch them.
Leever deserves good graces for injecting more of a mystery angle into his story, whereas most would have gone for straight horror. He also earns extra points for a reveal that doesn't quite turn out how one would expect. –Rod Lott