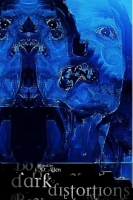 Should you choose to read DARK DISTORTIONS – the inaugural release of indie publisher Scotopia Press – it's a near-guarantee that the book will undergo a transformation in the process, from a mint-condition paperback of considerable heft to a dog-eared stack of no-longer-solid-white pages, stuck between peeling covers.
It's my own fault, really. So into its nearly 600 pages of brand-new dark fiction I was that I took it everywhere I went: to breakfast, to bed, to work, to the park, in the car. I put it through the ringer, but several of its stories did the same to me.
I knew not a single name of the 30 or so authors involved in this anthology, but now there are several I'd like to follow. Its first piece of note is "The Snow Demon," by David W. Landrum, in which a wayward female blues singer making ends meet in a topless bar hears talk of a mythical creature in a nearby cave, and eventually gets the chance to see how much of it is just talk.
Eric R. Lowther's "Alley Cat" follows a serial killer on the day of the month he always sets aside for slaughter …. but he's got to complete his parole-required battery of psych tests first. The narrator of A.J. Brown's "The Woodshed" recalls horrifying instances of abuse by his father's hand in the titular site, and how those childhood events still haunt him.
One of the more effective stories is Chris Morrow's "Fear & the Storm," not only because it deals with the all-too-real terror of tornados, but also because it provides a twist end that's refreshingly absent of a mean streak. A visit to a fortune teller leaves two college students in trouble in Gerald C. Matics' "Enthralled," while a white-collar criminal suffers a horrific on-the-job "accident" in Kim Despins' "Onus."
Michael Anthony's "Night of the Cheddar Moon" imagines a police state in which the homeless are separated from the rich via a guarded concrete wall, forcing the eating of rats, the selling off of daughters and other dire decisions. And in the Palahniuk-ian humored "Pick," Erik Smetana's narrator confesses an obsession with peeling and eating his own – and eventually other people's – scabs. (His first taste "was like ancient ambrosia with a hint of Crunch 'N Munch.")
Other stories center on clans of monks, cursed words, rebellious angels, wounded guitarists and paranoid teachers. The best of the bunch comes from C.D. Allen, who co-edited the entire volume with Molly Feese; his "The Rector House" is an old-school horror show in the vein of H.P. Lovecraft, with a man who has no family suddenly learns he does, and travels to the big, spooky manse in which they live to discover their secrets. They number quite a few, all of them repulsive. I'd deem it flawless, if only Allen could differentiate between "its" and "it's" – a pet peeve of mine.
A few stories come up short. Mark E. Deloy's "18 Wheels of Hell" might be better if it weren't so literal; an evil trucker sports a red tail, and he's followed by a guardian angel with actual wings. And Trevor Price's "Thin Walls" – one of the longer pieces – suffers from too much description. There are also several poems, and sorry, but I'd argue no one in horror has done that well since, well, Edgar Allan Poe.
But the good far outweighs the bad – or just the not-as-good, as is more often the case – making DARK DISTORTIONS quite the calling card for a fledging publisher. –Rod Lott

"He soon had her T-shirt off and his hands on her tits and then her track shorts off and his hands on her ass. She felt her pussy get wet as he continued to run his hands and lips all over her. She lay back on the bed as he put on a condom. He took her in his arms and sank down, pushing in as she adjusted her hips to receive him."