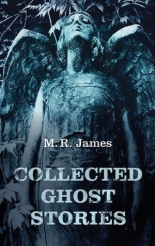 Scan the table of contents of almost any collection of "classic" ghost or horror stories — especially those from England — and you surely find a contribution by M.R. James (1862-1936). Similarly, any article or discussion of early influences to the horror genre always includes acknowledgment of James' stories.
Sadly, other than appearances in the aforementioned anthologies, it's nearly impossible to find these stories. Now the Oxford University Press seeks to correct this situation with COLLECTED GHOST STORIES, the first publication of James' entire short-story output in many years.
As detailed in the introduction by the collection's editor, Darryl Jones, James spent his entire life in academia and was a noted professor and researcher on religious antiquity. During this time, it became a tradition for a select group of friends, colleagues and former students to gather late evening Christmas Eve in the provost's study at Kings College Cambridge to hear Professor James recite one of his recently written ghost stories by candlelight.
Eventually, these stories were published to great popularity, resulting in additional collections and the occasional article about ghosts or ghost stories written by James and published in local journals or newspapers, or as introductions to story collections by various authors. Today, James is remembered exclusively for his ghost stories, rather than the body of research that established his professional academic career.
James often drew upon his immediate surroundings and experiences for his stories. Typically, a scholar or professor discovers an antique object or lost manuscript that unleashes some horrible, supernatural force. The settings are usually a university college, library or a hotel in the English countryside. The ghostly occurrences take place in darkened bedrooms or studies, or while walking down a long country road late at night.
 
In "Oh, Whistle and I'll Come to You, My Lad," perhaps James's best-known story, a researcher finds an antique whistle in the ruins of an old church. Later, after he succeeds in producing sounds from the whistle, he is visited by a threatening specter made from the bed linens in his hotel room. In "Casting the Runes," an amateur alchemist takes revenge on those academics who have spurned his published works by through the transfer of runic curses on slips of paper.
A mysterious manuscript, believed to written in Hebrew, is the source of horror in "The Tractate Middoth," and a professor seeking a few quiet nights to read and write at a countryside inn discovers an ancient evil when he inquires about a ancient local landmark in "Rats."
 
H.P. Lovecraft expressed his enthusiastic appreciation for James in his famous "Supernatural Horror in Literature" essay, and it's easy to see how James might have provided the inspiration for Lovecraft's creation of the Necronomicon and other ancient objects that fall into the hands of lonely outsiders and ultimately call forth the Elder Gods of Lovecraft's mythos.
 
In addition to the 33 stories, this collection includes a bibliography and chronology of James' life and works, extensive endnotes, the various articles and other writings James devoted to ghost stories; the afore-mentioned introduction details the elements of the author's fiction and its possible influences (with, perhaps, a bit more speculation on James' ambiguous sexuality than necessary). All this comes with the sturdy, library-quality binding and inlaid ribbon book marker that are the traditional trademarks of the Oxford University Press.
 
COLLECTED GHOST STORIES is unquestionably the definitive collection of M.R. James and comes very highly recommended not only to fans of traditional ghost stories, but to all those curious to see what — and who — shaped and defined the horror genre. —Alan Cranis