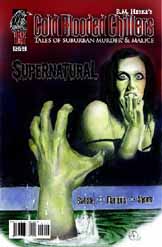 COLD BLOODED CHILLERS: TALES OF SUBURBAN MURDER & MALICE #3 is the best issue of this indie horror comic thus far, primarily because all three stories carry art that's up to snuff. Both issues before it have sported a story where the drawing didn't match the level of the tale, so the calibration is appreciated.
"Shadow" is going to bother some readers, no doubt about it, because it deals with a boy whose mom's boyfriend is selling him out to truckers for rest-stop quickies. Since CHILLERS is built upon twist endings, you can't wait to see the sleazeball get what's coming to him, but prepare to have your expectations shattered.
"Transcendence" is a touching ghost story set in an aquarium, in which the night watchman who's long turned to drink has visions of his dead daughter. Finally, "Synchronicity" is one of those stories that, like the film PI, is built upon a paranoia and an obsession with numbers. It's a little tough to explain, but the horror here is more of the everyday variety, and mind-bendingly clever.
Robert Heske scripts all three stories, while art is handled by Adam Swiecki, Reno Maniquis and Dirk Shearer, respectively. If you haven't yet checked out this title — and I'd bet that's most of you — this issue would be a good starting point. —Rod Lott
Buy it at Cold Blooded Chillers.
OTHER BOOKGASM REVIEWS OF THIS SERIES:
• COLD BLOODED CHILLERS: TALES OF SUBURBAN MURDER & MALICE #1 / #2