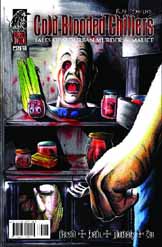 Forgive the obviousness, but COLD BLOODED CHILLERS: TALES OF SUBURBAN MURDER & MALICE warmed my heart. Horror comics seems to be in a resurgence, but this time, a good half of that goodwill is fostered by the independents. And not just independent publishers, but real DIY independents as well. One of them is Robert Heske, whose homemade Heske Horror brand is behind this new anthology series.
The first issue is comprised of four stories, all written by Heske, but drawn by a different artist. "Lost and Found" is first, a malicious, mall-set mystery that keys off a modern urban legend when a young woman loses her little sister in the shopping mecca.
"False Pretenses" follows a couple who met online during their first date, complete with the requisite twist ending. The protagonist of "The Waiting Room" finds himself stranded at a very strange service station when his car crashes, and "Mishap" is a short story about the gruesome chain of events set into play when a trucker gets distracted by a prostitute's booty.
The writing is well-paced as the action moves from panel to panel, failing only in not allowing us to catch our bearings so easily as "The Waiting Room" shifts back and forth between two time periods. That story and "False Pretenses" sport the best art of the issue, from Preston Asevedo and Zeu, respectively; conversely, Scott Austin's work on "Lost and Found" is underdrawn, while Neil Morrissey's penciling of "Mishap" is similarly sketchy. The pervading sense of fun, however, keeps any amateurish elements from bringing everything else down.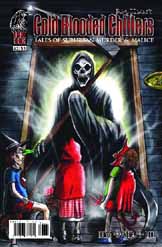 Heske again writes all the stories in COLD BLOODED CHILLERS #2, with the wonderfully perverse "Dead Dog" opening the issue, with Zeu illustrating. He has a thick-line style that reminds one of Charles Burns at times, particularly when depicting seemingly innocent sections of suburbia, turning them sinister simply by using more ink than required.
Alain Norte's art for "Misnomer" strikes one as average, but the old-fashioned Halloween tale is a mere four pages, serving as a quick, one-joke bridge before the real meat (pardon the pun) of "Her First Day Alone," a disturbing story of a woman suffering from extreme postpartum depression not all that excited about seeing her infant go to daycare. There will be blood.
These CHILLERS aren't the second coming of EC or anything, but they are effective entertainments for quick-dose reads, and an independent effort worthy of support. —Rod Lott