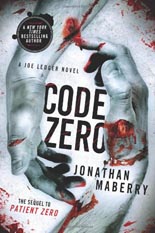 For all the thrills and inventiveness Jonathan Maberry brings to his Joe Ledger series, nothing compares to the unanticipated kick-in-the-head of PATIENT ZERO, the 2009 novel that introduced the character. No doubt that's why CODE ZERO, this sixth title in the series, proclaims itself "The Sequel."
 
But CODE ZERO is not a sequel in the strictest sense of the term. That is, it does not take place immediately or even shortly after that book's events. The setting is the present day and many of the events of the previous novels are acknowledged. It's the medically produced monsters from the first novel that reappear and are among the reasons why this latest is the strongest Ledger entry to date.
Ledger and his warrior crew from the elite Department of Military Science hardly have time to recover from their latest encounter when a new threat appears. A video suddenly interrupts television and Internet broadcasts around the world. The video features an attractive but oddly disguised young woman who calls herself Mother Night. Her message predicts anarchy and chaos, and is peppered with weird but memorable slogans.
 
Not long afterward, attacks are made in isolated areas around the U.S. They seem random, but what concerns the chief administrators of the DMS is that they include bioweapons the DMS previously fought and defeated. These eventually include a new and advanced generation of the monsters Ledger battled after first joining the DMS.
 
It's up to Ledger and his team to determine if Mother Night managed to break into the hidden and impenetrable fortress that holds the world's most dangerous plagues and weapons. At the same time, Ledger and the entire DMS scramble to discover the identity of Mother Night and the real intention of her anarchy-themed attacks.
 
Like the previous adventures, Maberry shifts the focus back and forth from Ledger's first-person perspective to the third-person detailing of various other characters and events as Mother Night's scheme unfolds. Several "Interlude" chapters further trace the impressive background and training of the woman who would become Mother Night.
 
The author also maintains the near-relentless pacing that distinguishes his series. While a few moments in the 470 pages seem slightly redundant, these are quickly forgotten as the chapters progress toward the final encounter of Ledger and Mother Night.
 
Along with the reappearance of PATIENT ZERO's monsters — whose advancements make them more deadly and frightening than ever — also notable in CODE ZERO are Ledger's moments of introspection and self-assessment. After all the extraordinary things he has seen and been through in his years with the DMS, he has managed to persevere, he observes, by acknowledging the dominant facets of his personality and thought-processes.
In any other individual, these opposing facets would lead to insanity. But Ledger knows his life has been as bizarre as the enemies he has fought, and that these interior facets have kept him alive and stable when others might have collapsed.
 
That Maberry successfully blends these introspective moments amid all the terrifying battles and action without missing a beat further demonstrates his skill at combining the wonderful pulp features of horror and science fiction with a mainstream novelist's sense of character and insight.
 
The Joe Ledger series is uniquely successful among the many novels that attempt to merge these seemingly contradictory influences — and far more entertaining than all of them. The uninitiated might be tempted to start with PATIENT ZERO and then go directly to this latest title. While there's nothing altogether wrong with that, why deny yourself the many hours of sheer reading fun that are in store by enjoying the entire series from the first ZERO to the latest? —Alan Cranis