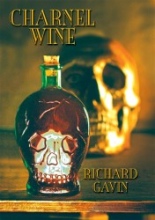 This is a love letter more than a book review. A love letter to all the small publishers out there, and especially Dark Regions Press, for whom I have read three short story collections (four if you count the recently reviewed Steve Vernon's DO-OVERS AND DETOURS). 
This review covers CHARNEL WINE by Richard Gavin, WINE AND RANK POISON by Allyson Bird and A HOST OF SHADOWS by Harry Shannon. But as I said, it's not really about the books; it's about Dark Regions and all the other small, indie publishers out there still doing their own thing in the face of the giants who have swallowed up, or put out of business, many of the smaller companies, much the same way Borders and Barnes & Noble put the indie bookstores out of business.
Yes, there are still some independent bookstores out there, but by and large, the chains put a hurting on most of them. Now Borders is in its death throes and B&N is ailing, so what does that tell you? It tells me that all things are transitory and cyclical, and although the big publishers rule the market share of the print world, they are experiencing problems of their own, as seen by their layoffs and "restructuring" and closing of divisions.
In the present day, when an author can upload a book and sell it online, or pay a company to print copies for him/her and develop a network of readers through blogging/Tweeting/Facebooking/YouTubing/etc. (I think I just invented some new words back there), then the stranglehold the big publishers have on what can see print and what people can read can't last. At present, everything is homogenized and copied and flooded into bookstores with major marketing/advertising, while the midlist books go the way of the T-rex.
Don't believe me? Check out the fiction section — especially the genre fiction — of any of these major chains and tell me how much of it is experimental and cutting-edge, and how much of it all looks like the same stuff that gets released over and over again, or is copied from somewhere else. If you want something different, something that would never end up on Oprah's Book Club or the bestseller list, but is geared more toward the reader rather than the mindless consumers out there, then the small press is the place to look.
Okay, enough of my ranting.
Gavin's CHARNEL WINE is subtitled THE MEMENTO MORI EDITION, because it was originally published in 2004 by Rainfall Books. It quickly went out of print, but is now back thanks to Dark Regions Press, with added material. It's a collection of horror stories, or perhaps "dark suspense" would be more appropriate a description, as much of the horror is psychological.
But that's neither here nor there. Suffice it to say that the stories are dark and gloomy, and owe more to H.P. Lovecraft and early Peter Straub than much of the slasher fiction or flavor-of-the-month monster stuff (usually zombies or vampires) that passes for it today.
Personal favorites from the collection: The title story about a man who has nightmares of being forced to drink a bitter liquid by rotting corpses, and his lover who knows more than she's saying, was abruptly short, but nevertheless powerful; "Mrs. South," about a man caring for his ill mother while simultaneously being haunted by a long-dead witch, and its "Yuck!" moment at the end; "The Folly," an unusual take on the end of the world; and "The Alchemy of Slumber," about a man's encounter with a supernatural creature, his inability to sleep afterward, and inevitable transformation he undergoes as a result. Good stuff.
Not so good? There were a few short-short pieces, some no more than a page or two, that appeared to be mere snippets of something, or ideas for scenes at the very least, but that didn't evolve into anything and seem little more than filler. Most are in the center of the book and could have been cut without damaging the integrity of the rest of the collection. Just my opinion, of course, but as always, you're welcome to it.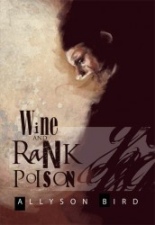 Bird's WINE AND RANK POISON has probably what is the longest author bio I've ever seen located on the very last page. But I won't hold that against it.
It is a collection of stories that range from horror to drama, all the way to dark fantasy. It also contains an introduction by Joe R. Lansdale, who says that the stories in Bird's book "are full of fantasy and magic and dark places." Joe says it better than I can, although I must admit I didn't become as huge a fan of her work as he predicted I would. Still, I did enjoy the stories and it is a slim, little volume of some interesting ones.
Personal faves include "The Convent at Bazzano," about a family on vacation in the Italian countryside that has one of the coolest character descriptions ever: The husband reads Dan Brown, and the wife reads Harlan Ellison and Fritz Leiber. Can you see who the person who is attuned to the supernatural forces will be and who will be the blind idiot? I also enjoyed "Vulkodlak," an unusual werewolf tale that's more about the "why" of the curse then the "how." 
There were stories that didn't work for me, such as "The Last Supper," about a long-missing sister and a devious, coldly plotting sister, that telegraphed the ending a little too early, and also "The Legacy," about a mob guy with many enemies who strikes up an alliance with one such enemy when the world becomes overrun with homicidal maniacs … but the story ends too soon and wastes what was an interesting premise.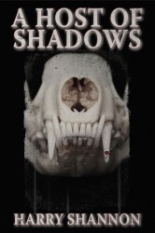 Last but not least is Shannon's A HOST OF SHADOWS. By far, this one was my favorite of the three, but maybe because it was more of a flat-out horror collection rather than the eclectic mix of the other two. Or it could be because Shannon likes to dive deep into the darkness of the human soul and shine a light on the snarling things he finds scuttling around in there, whereas the other two are content to watch from a distance.
Be that as it may, I enjoyed the contents of A HOST OF SHADOWS, and especially the section in the back ("A Few Notes") in which the author talks about the inspiration and evolution of each tale. Normally, this is a section wherein an author becomes pretentious and gives a "Look how clever I am" speech, but Shannon avoids that and gives some insight into the creative process.
Personal faves: "Blood and Burning Straw," a truly horrific story about Vietnam and vengeance from beyond the grave; "A Handful of Dust," about a hit man who has the tables turned on him; and "And The Worm Shall Feed," a horror story set during World War II that shows what desperation will do to men when they come to believe Hell exists on Earth.
But the best one, the one worth the price of the whole book, is "Violent Delights." I'm sure you remember the case of the woman who hit a homeless man, then drove home with his body still stuck in her windshield, and then kept him in her garage until he finally expired. Well, in "Violent Delights," the author uses that as his story premise, but this time gives it the ending that the real-life event should have had. If only.
Support Dark Regions Press and the other independents out there. If not for them, the world would be filled with cookie-cutter fiction, self-help crap and celebrity tell-alls. Oh, and if you find them, give some business to the small bookstores, too. —Slade Grayson