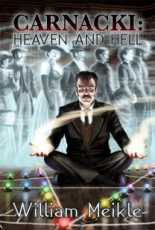 Dark Regions imprint Ghost House has released CARNACKI: HEAVEN AND HELL by William Meikle. As created by William Hope Hodgson, an early 20th-century pulp writer (and an interesting character in his own right), Carnacki is an occult detective often called in to help resolve a supernatural mystery. Think of him like a Victorian-age Dr. Strange, or Sherlock Holmes, if he were written by M.R. James.
But whereas in Sherlock Holmes stories, the supernatural elements are always proven to be the machinations of a flesh-and-blood person (also, see any episode of SCOOBY-DOO), in Carnacki's stories, the supernatural is a tangible element.
Meikle writes in a pulpy, Victorian style that perfectly captures the original Hodgson stories. Comprised of 10 different tales, they all begin with Carnacki inviting a group of friends over for dinner, and then over brandy and cigars, regaling them with a tale of his latest adventure.
Carnacki is called in or hired to investigate a strange occurrence that bears the mark of the occult. He investigates, is nearly killed while the person (or persons) around him are injured or killed, then comes up with a solution.
Yes, it's formulaic, and reading the stories back-to-back can highlight that (especially the framing technique of the tale told to his friends over after-dinner libations), but there's still a sense of fun to it. And as I said, Meikle captures the feel of the old stories perfectly.
Now if I could just convince Meikle to collaborate with Guido Henkel and write a team-up between Carnacki and JASON DARK … —Slade Grayson