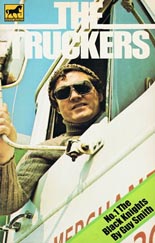 I'm a huge fan of Matthew Holness' creation of the character Garth Marenghi. It's a joke that if you grew up at a certain time (the '80s), the humor is so obvious. DARKPLACE asks, "What if a prolific author not only wrote a TV series, but also starred and directed it? And his main output is low-grade horror that relies on cheap sex and over-the-top ideas. Marenghi is based on a few authors, one being Guy N. Smith. So let's take a trip to the roots of one of the truly hysterical characters ever to come to the little screen.
Sadly, we still have not gotten a U.S. release, but all the episodes in full are floating around that video site. Let's get a little minor quibble out of the way: The bulk of Smith's books are very hard to come by and very pricey. Thankfully, the bulk of his output also is available in ebook form, but the prices still are a bit pricey.
THE TRUCKERS: THE BLACK KNIGHTS by Guy N. Smith — I've got a pal who is a huge fan of Guy N. Smith. I'm talking, he has tubs filled with the man's work except for a few books, this 1977 title being one of them. It's super-hard to come by, but thankfully easy to grab as an ebook.
This is essentially a story of the little guy going up against the big, corrupt, evil corporation. Mike Britton is trucker by trade with a small company. He runs his company like a family, but in doing so has drawn the ire of the big baddie named Wheeldon, who wants to control all of the trucking industry, swallowing up all the companies he can. Britton clearly is in his sights.
The book is pretty much that old '70s flick WHITE LINE FEVER, except the movie was more brutal. But fear not: Smith packs the book with gore moments, like the opening car accident where a driver is thrown from his car with his hand still gripping the steering wheel while the rest of the body is thrown feet away. We see Wheeldon work his evil magic buy sending thugs to take care of Britton's fellow truckers, with Britton exacting a sort of revenge we have seen and read before.
There are some clever moments like setting up one of the killers, which I won't spoil. That's the story in a nutshell with an ending which is just over-the-top. Smith throws in some sex into the mix, that being a rape and Britton trying to track down Wheeldon through prostitutes. It's a quick, goofy read and there is another book in the series, also slightly over 100 pages, but at a full book price.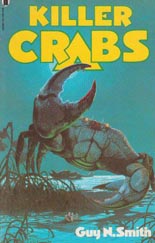 KILLER CRABS by Guy N. Smith — This 1978 title is book two of the CRABS series. How Smith got so many books out of this subject is just amazing. But again, they are a total blast of sheer lunacy. And KILLER CRABS picks up four years after the first book, with the location changing from Wales to a remote tourist island off of Australia.
This time, the characters are a local fisherman named Klin; a woman named Caroline Du Brunner, who is not only sex-crazed but is hiding a big secret (nothing to do with crabs); a big game hunter named Harvey Logan, who wants to capture a great white; and the only returning character from the first book, Professor Davenport, who was responsible for destroying the crabs all those years ago.
The attacks happen slow, like in the first book — the reports of disappearances and such. It's not 'til someone goes diving and comes face to face with one of the aforementioned crabs that the shit hits the fan, so to speak. Davenport is called upon to come to Australia, but he thinks it's just another made-up story, which became a problem for him after the first adventure.
But oh, no, the crabs are real. And what's even worse, Du Brunner is looking for any man who can satisfy her, with some very comical results. Throw in a cache of cash that is being passed around and that's the story. Now, the whole crab aspect, we learn a few things: namely, the largest turns out to be a queen crab, and all these crabs are ready to spawn their eggs. Look out, world, the crabs can't be stopped. I mean, if they could, we would not have another book waiting for us in the killer-crab genre.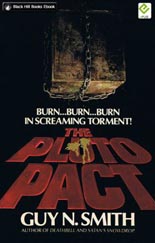 THE PLUTO PACT by Guy N Smith — If they only handled things a bit better back in 1595, then none of these problems would have happened. Yes, back in those olden times, a witch finder comes to the Scottish village of Craiglowrie to hunt down an evil magician named Balzur. Fast-forward to 1982, when the book was published and when the rest of the book takes place, and things in Craiglowrie are going fine — well, except for the occasional unexplained and horrific deaths over the years.
There is a new nuclear waste reprocessing plant … oh, and it's built on the area where Balzur was burned at the stake. I think we can all see how things are going to turn out in this one — right, folks? Slowly but surely, the local townspeople are going a bit mad. First, it's the son of local reporter and main character Bob Coyle. His son Richard has gone off the deep end, brutally killing his longtime girlfriend in a horrific matter. But he is not the only one. The local vagrant has started to hear voices commanding him to kill too. It seems Balzur has come back from the grave to exact revenge on the whole town.
Now throw into the mix the new plant is having issues — that of a leak with the threat that it could trigger a worldwide panic. Smith has really upped his game in this one. While in the above books, most of the characters seem to be there to move the plot along, they are fully developed here and very central to what's going on. This is definitely not the pulp-centric type of material that most people know Smith for. Oh, there are still moments like that. But on the whole, THE PLUTO PACT is a step above others in his output. Still, it would have really been cooler if he threw in a musical interlude. —Bruce Grossman