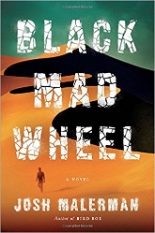 The Danes are former WWII Army musicians turned mildly successful civilian band. It's 1957 Detroit, and with several mid-list hits under their belt, the band is feeling a stagnation they strive to overcome by drinking too much, and producing albums by less experienced, less talented groups. Then one day, the Army comes calling with an offer: travel to the African desert and try to locate the source of a mysterious sound. Not just any ordinary sound, however, as this particular one can render weapons useless and incapacitate men.
It sounds a little like "Indiana Jones and the Lost Horn of Jericho." But no, BLACK MAD WHEEL by Josh Malerman is better than that hackneyed premise.
Alternating chapters shift to months later where Philip Tonka, one of the Danes, is recuperating in a hospital from near-fatal wounds. By all rights, Philip should be dead, or at the very least, completely paralyzed. But every day, his body appears to be making miraculous leaps in healing. The mystery of how Philip came to be severely injured, how and why he survived, and the fate of his bandmates is parceled out piece by delicate piece to the reader.
So now you're thinking, "Oh, it's THE ENGLISH PATIENT crossed with that other movie that Adrien Brody won the Oscar for that nobody can remember (THE PIANIST)." But no, it's better.
Josh Malerman burst on the dark fiction scene a few years ago with BIRD BOX, an inventive twist on the post-apocalypse genre (favorably reviewed by Bookgasm). BIRD BOX was Malerman's first novel, and although it felt like a long wait for his second, current work, Malerman's shorter fiction has been popping up with greater frequency over the past few years, such as GHASTLE AND YULE, A HOUSE AT THE BOTTOM OF A LAKE, and short stories in anthologies (LOST SIGNALS, SHADOWS OVER MAIN STREET, and YOU, HUMAN to name a few). He's one of those authors that when I see his name on a collection, I know it's an instant buy.
I also hate Josh Malerman because he's one of those writers that comes up with really cool ideas that make other writers (well, I'm only speaking for myself) think, "Holy crap, I want to read that right now!" mixed with "Why can't I come up with a story idea like that?" He also possesses the writing talent to pull it all off, which is a rare feat indeed. Although his endings are not always as satisfying as his premise (confession: I thought the end of BIRD BOX was a little too pat), Malerman manages to tie up all the plotlines in a way that makes other writers want to hurl the book at his smug face (again, I'm speaking only for myself).
The author also has the ability to transition from one perspective to another, sometimes in the same paragraph, and he makes it all seamless. Beyond that, he also shifts locales and does it as easily as a film swipe, from the cloudy skies of late 50's Detroit and post-war sensibilities of its residents, to the sun-baked desert of Africa, to a sterile hospital room where a patient is questioned by bland, yet sinister men. It's like David Goodis and Franz Kafka collaborated on a globe-hopping adventure/horror novel. But no, it's better.
Forget all that for a moment and consider this:
This is a book about sound. A sound unlike anything you've ever heard. Using words on a page, the author is able to describe the sound so that not only are you able to hear it, but you feel it the way the characters do in the story. Consider the talent it takes to convey sound on a static black and white page.
I hate Josh Malerman. I hate him because he's too damn good.
BLACK MAD WHEEL is highly recommended. —Slade Grayson