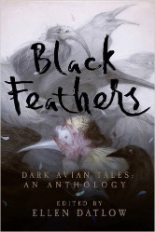 Prolific, insightful and often surprising editor Ellen Datlow chooses birds as the topic of BLACK FEATHERS: DARK AVIAN TALES, her latest anthology of mostly new stories.
Birds often connote beauty, freedom, and song. But as Datlow points out in her stylish Introduction, "there's a dark side to the avian." She notes the many birds of prey; that birds often kill other bird's eggs; and some are also known to kill small animals. These and several other foreboding avian characteristics, along with several species of birds themselves, are the basis of the works featured in this anthology.
An ominous poem by Sandra Kasturi, "O Terrible Bird," leads off the collection and blames birds for a horrifying attack.
In "Great Blue Heron" by Joyce Carol Oates, the cries of birds on a near-by like wake a recently widowed woman. She soon retreats into thoughts of her late husband, while her brother-in-law encroaches upon her life – much like the predator Heron she sees on the lake.
Jeffrey Ford's "The Murmurations of Vienna Von Drome" is a moody period story of brutal murders annually plaguing the city of Pellegran's Knot. A young girl, the daughter of one of the murder victims, provides perplexing clues about the identity of the killer to the local investigating constable.
A young woman in "Pigeon From Hell" by Stephen Graham Jones recalls the death of a small boy she used to babysit, and the damaged pigeon the boy rescued from the gutter that lived far beyond expectation.
In "The Season of The Raptors" by Richard Bowles, the narrator recalls how the sight of a hawk nestling on the ledge of a building in Greenwich Village one summer sets off a series of fascination and near worship of the carnivorous birds throughout New York City.
The total 16 stories include contributions by Pat Cardigan, Paul Tremblay, Nicolas Royle and several others. They range from murder mysteries to dark fantasies to haunting, impressionistic recollections and impressions. The one common element is the less than sunny presence of various kinds of birds and how they affect the humans in the stories.
While a few were previously published in earlier anthologies, most of the works were created especially for this collection. A brief biography of each of the authors appears toward the end of the book. Datlow has previously devoted anthologies to unexpected subjects, including coyotes, dolls, and tales of animal people and mystic forests, to mention a few.
BLACK FEATHERS is another triumph for this talented editor and highly recommended for its diverse and skilled contributors. It will definitely cause you to think twice the next time you see a flock of birds soaring through the sky or hear their songs outside your window. —Alan Cranis