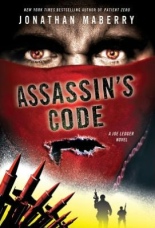 Think your job is hell? Be thankful you're not Joe Ledger. As chief agent of the CIA's super-secret Department of Military Science — and the star of three previous Jonathan Maberry novels — he earns his keep saving the U.S. from some of the most ominous villains imaginable, and usually encountering some really nasty monsters along the way. Be thankful also that Maberry continues to chronicle Ledger's wild exploits, including this latest, ASSASSIN'S CODE.
Immediately after he and his Echo Team rescue a group of American teenagers from an Iranian prison, Ledger is mysteriously summoned to a local coffee shop where he is approached by his dreaded Iranian Intelligence Agency counterpart.
This time, the meeting is not about a new threat from the Iranians. Instead, the spy presents Ledger with information about as many as six nuclear bombs planted mostly near Mideast oil fields and one possibly somewhere in the U.S. The Iranian is certain that no known Middle Eastern terrorist group is responsible for the bombs, and asks for Ledger's help in finding and disarming them.
The only clues to who might be responsible for these weapons of mass destruction, rescued from a murdered Iranian field agent, includes reference to a cryptic, ancient text known as the BOOK OF SHADOWS.
 
Once he confirms the threat of the missing nukes with his boss, Ledger sets out to locate the weapons and the individuals behind the deadly threat. He soon discovers that a group of highly dangerous, genetically altered creatures, whose existence includes centuries of myth of lore, are involved for some mysterious reason.
Yet this is only one element of the myriad of complexities surrounding the bombs and their intended purpose. While his associates at home work furiously to uncover the mystery behind the threat, Ledger — aided by a shadowy female assassin known as Violin — continues his search for the location of the bombs before their catastrophic detonation.
 
As in the previous Ledger novels, Maberry uses actual conflicts of the contemporary world as the basis of his story, and then spices things up with liberal doses of horror. This unusual mash-up works thanks mostly to the science-based evidence Maberry enlists to justify his monsters, making it all seem undeniably credible.
 
The author also keeps the action moving and the pace sharp with his usual cross-cutting succession of chapters, alternating between Ledger's first-person observations and events of his colleges at the DMS headquarters and the others involved in the race against time.
This latest novel, however, also includes several "Interlude" chapters whose purpose is to establish the strange and ironic historical roots of the conflict that date back hundreds of years. It's all weirdly fascinating at first, but as the momentum and suspense builds with Ledger and his crew these Interludes start to feel more like interruptions. Their value is important to Maberry's intended purpose, so readers should utilize these moments to stop, take a stretch, use the facilities, refill their beverage glass and then get back into story.
 
ASSASSIN'S CODE is another triumphant and outrageous horror novel for thriller lovers; as well as a contemporary thriller for horror fiction fans. That soft chuckling you hear inside your head while reading is Maberry as he deviously erases the countless years' worth of boundaries separating these two genres.
You need not be familiar with the earlier Ledger novels to fully enjoy this latest one. Then again, why deny yourself so much inventive and high-octane fun? —Alan Cranis