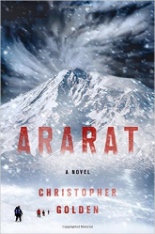 Remember a few years back when Seth Grahame-Smith's PRIDE AND PREJUDICE AND ZOMBIES hit the book scene, and suddenly it seemed like every hack writer was submitting classic novels interspersed with horror sections to publishers? Unfortunately, some of those "novels" (I use the term loosely) actually made it into print. What should have been a one hit wonder (and it kind of was) sparked imitations.
It's similar to when Hollywood has a hit movie and hack screenwriters rush to their laptops and attempt to copy the winning formula of what they just saw on the screen rather than come up with something original. They type up a by-the-numbers script instead of being inspired by what they saw and attempt to create something with heart and soul.
While reading ARARAT, Christopher Golden's latest novel that takes the legend of Noah's Ark and turns it into a horror story, I couldn't help but wonder if the same thing will happen here. In the coming months, will we see horror twists on classic Bible stories? Yes, I'm aware that Indiana Jones' movies have used various legends from the Bible as plot devices (except for the last Crystal Skull debacle), but what I'm referring to here is taking a story from the Bible and turning it into a modern horror story.
One can only hope that Christopher Golden's novel will inspire horror writers rather than spawn hackneyed imitations. Anyway…
ARARAT begins with a massive avalanche on the mountain the book is titled after. Adam and Meryam, a newly engaged couple who make a living by traveling the world and documenting their adventures, rush to explore an uncovered cave on the mountain. Inside, they find the remains of a huge ship, along with skeletal remains of various animals and people. Is it the remnants of Noah's Ark? The evidence seems to point that way. Then the couple and their guides discover a massive sealed coffin with strange symbols carved on it. Being the intrepid adventurers that they are, Adam and Meryam decide to open the coffin and discover the remains of…something.
It's safe to say that what's inside the coffin isn't the skeleton of a human or any recognizable animal. Whatever it is, even though it's been dead for centuries upon centuries, it exudes evil. As various researchers and scholars (and government agents, of course) rush to examine the discovery, a blizzard is on the way to trap them. And wouldn't you know it? That's when the bad stuff starts to happen and the bodies begin to pile up.
It's hard to describe more of Golden's story without giving away a few plot twists and surprises, but needless to say, the author excels at building tension. Just when you think someone is safe, well, they aren't. No one is safe in this book, which adds to the enjoyment of the reader.
John Carpenter's THE THING is one of my favorite horror movies — okay, it's my favorite horror movie — so part of the reason why I enjoyed ARARAT is due, I'm sure, to some of the similarities in the stories: the discovery of an ancient relic that turns out to be deadly; a harsh, freezing environment that traps the characters with the horror they seek to escape; the paranoia of not knowing what's happening or if everyone is who they claim to be, mixed with the rising death count…
I'm sure Christopher Golden was inspired by THE THING, but that's not a bad thing (see what I did there?). There's a line between being inspired and outright imitation. Here's hoping we see a slew of ARARAT inspired stories rather than cheap knockoffs.
Recommended. —Slade Grayson