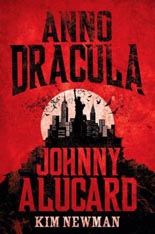 This fourth entry in Kim Newman's parallel-world series that imagines Dracula's continuing influence and the spread of vampires into the population of the living covers the years 1976 to 1991 and spreads Dracula's prodigy to America. ANNO DRACULA: JOHNNY ALUCARD is, by turns, wonderfully satiric and surprisingly thought-provoking, but its structure may dampen these effects for many readers.
 
It is 1976 and director Frances Ford Coppola is on location in Transylvania shooting the film DRACULA. Witnessing the production, with all its natural and man-made disasters, is Kate Reed, a news reporter who, being a vampire, also serves as the film's consultant.
Reed introduces Coppola to Ion Popescu, a local boy who, we learn in the novel's prologue, was turned into a vampire by Dracula himself. After ingratiating himself with Coppola and crew, Ion leaves Transylvania for America.
 
A few years later, Ion changes his identity to Johnny Pop and hangs out with the punk rockers in New York City. Then he changes friends and his scene to become the celebrated darling of the dance floor and the disco crowd at Studio 54. Andy Warhol even makes Johnny a member of his urban bohemian pop-art crew.
Johnny also manufactures a highly addictive drug that gives users temporary vampire powers — street name: "drac." Between the drug and activities of Johnny and some of his undead associates, vampires are becoming a growing minority in the USA.
 
He then relocates to Southern California, where he changes his name again — this time to Johnny Alucard — and soon gains a reputation as a well-heeled movie producer with several projects in development all over town. One such project is the long-delayed movie adaptation of Bram Stoker's DRACULA by legendary film director Orson Welles, who hires a vampire private investigator to learn more about Alucard and why he is so devoted to the movie. The detective finds that Welles' film is one of many, varied Dracula-inspired movies and soon discovers the frightening reason why Alucard is so determined to present the story of Dracula as often as possible.
 
Following a somber and dark opening, where the young Ion is turned into a vampire, the first chapter adapts the satiric tone that dominates the rest of the narrative. Movie buffs will immediately recognize and smile at the similarities of Coppola's DRACULA movie of the novel to that of his real-world Vietnam War epic, APOCALYPSE NOW. As the story progresses, and as the protagonist changes his identity and home base, Newman treats us to a seemingly endless stream of equally satiric takes on popular novels, TV shows, movies, pop music and celebrities.
 
Simmering under all this fun is the more serious theme of vampires becoming a notable minority population in their adopted world — a theme that has distinguished most of Newman's series entries. The humans — or "warms," as the vampires refer to them — can't decide if they are attracted to or repulsed by this growing and seemingly immortal race of beings. The vampires themselves are torn between their efforts to assimilate and associate with humans, and the urge to fully give in to their desire for blood and eventually reduce humans to little more than a source of nourishment. All this is played against the backdrop of America and its evolving culture and society in the final years before the new millennium.
 
Often working against these noteworthy characteristics is Newman's prose style and narrative structure. While seldom less than satiric, his style is highly protracted and elliptical, often taking what feels like forever to makes its point. This frequently dulls the humor or loses it entirely within a mass of diversions. Then there are the several extended Interlude sections where the author shifts the focus to secondary characters and events that, for the most part, eventually find their way into the main story.
 
It may take a bit more effort then expected, but readers who patiently make their way through these detours and deviations are rewarded with an unexpectedly unique, fresh, and sharp observation of American popular culture and the enduring influence of horror and other related genres of fiction in practically all forms of media.
 
Titan Books' reissue two years ago of 1994's ANNO DRACULA, the first of the bunch, helped rekindle interest in vampires long before another series of novels and their movie adaptations reduced the bloodsuckers to a bunch of pathetic dullards who stumbled out of romance novels. Newman's series instead reminds us why we remain equally frightened and fascinated by these creatures of the night after all these years.
 
For this reason, along with the way Newman uses vampires to contemplate how history might have evolved, the ANNO DRACULA books — ALUCARD included — should be read and enjoyed by all horror fans. —Alan Cranis