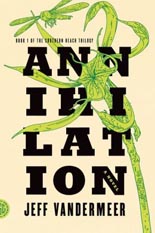 The narrator of Jeff VanderMeer's unsettling, gorgeous ANNIHILATION is part of a four-person team sent into the maw of Area X. Years ago, something happened: A huge swath of seaboard territory (the Southern Reach) was invaded or transformed, all human inhabitants lost or out of contact, a pervasive and perverse strangeness altering the ecology of the place.
The government over the decades since has sent in expedition after expedition. Some of these surveyors disappear. Some return, but are stricken by a strange amnesia, uncertain of what happened or even who they are. The latest team knows some of what came before, although information about prior surveys is restricted — so they know that something happened, something undefinably awful (or awe-ful).
VanderMeer follows in the footsteps of the classic ROADSIDE PICNIC and many of the works of Stanislaw Lem — or more distant ancestors like Poe and Lovecraft — in detailing a vast geography that demands but resists understanding. His work stands shoulder to shoulder with these precursors; ANNIHILATION is smart, tense and utterly engrossing.
But the novel isn't all unspecific pronouns and suggestive murmurs. Vague unease is a difficult sell, the horror always teetering on the edge of the humdrum; the reader can take only so much of "something awful" and "beyond our ken" before feeling suckered. That doesn't happen here. ANNIHILATION is grounded in a brilliant, precise journal of events which delineates the confounding interplay between the physical world and whatever forces lay behind the Area's changes.
VanderMeer draws the reader in, enlisting us in the survey, exploring every detail (a mysterious tower or tunnel; strange writing on the wall that seems to have been freshly written, and even seems to be alive), tantalizing with hints of what's behind or beyond. A boar seen in the underbrush upon closer examination "became stranger and stranger," "its features … somehow contorted, as if the beast was dealing with an extreme of internal torment."
The novel dances between specifics and "as if," that "contorted" muzzle made more disturbing because of the mysterious "somehow." As the team travels further — and begins to break under pressure — you will be gripped by the careful drip-drip-drip of revelations about the mysterious Area.
Clues also emerge in flashback, passages in her journal which unveil — and unnervingly undermine — our understanding of this narrator. Unbeknownst to her teammates, she is the wife of a prior team member. Her husband returned without memories of the trip, and subtly changed. ANNIHILATION's exploration into her psychology reveals an interior space as shadowy and uncanny as the Southern Reach.
The past and present narratives dovetail and tension rises … but I won't say there's conclusion, as this is the first of a trilogy (all to be published in the space of this year, thankfully). However, let's say shit gets real, and the novel is satisfying as a stand-alone (if open-ended) dark fantasy/horror novel. I think you'll feel compelled to return — maybe like the narrator, your "free will … compromised, if only by the severe temptation of the unknown."
ANNIHILATION is a seductive, thrilling novel, and I can't wait to see where VanderMeer is headed next. —Mike Reynolds