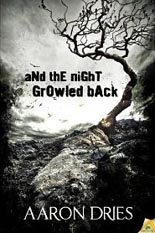 We open in media res: Sam, Paul and Lila are roaring away from some shadowy event at a fairgrounds, heading toward a remote cabin (never a good plan), trying to make sense of what happened and what happens next.
The best thing about Aaron Dries' slim AND THE NIGHT GROWLED BACK is the jigsaw narrative. Dries artfully shifts time and perspective, flashing back to the couple meeting in a club, or deciding to make a trip together to Iceland. Such interruptions are intercut with a frantic present where the trio (the couple and a best friend) grapple with the slow reveal of threat. I should say no more, because Dries uses the puzzle structure not just to ratchet up the tension of the story, but to continually reframe our understanding of the characters.
And about halfway through the story, a tricky gearshift violently redirects our attention. I was impressed — and reasonably entertained — by the author's confidence, his devious pleasure in pulling bloody rabbits out of a hat, his sleeves, from underneath my chair.
But I have trouble recommending the book as a book. Part of this isn't Dries' fault; it's just not a book. At a font-padded 64 pages, it's like a short story puffing up its chest and wearing high-heeled boots, trying to convince you it's a novella.
And the story also has some young-writer flaws. Dries has a fondness for ornate metaphor that can, alas, also puzzle the reader. "Time" isn't just a "hawk above their heads," it's "ready to swoop in and feast, and their crime was the rock against which the bird sharpened its beak." Light through a bottle "cast pink regret shadows across the opposite wall." The real talent for character and reader-rattling narrative twists can be swallowed up in the pink regret shadows.
Still, it's the sort of story that whets the appetite — you want to see what the author will do next. It's like watching a magician stumble with a bit of lousy audience patter, and only 10 minutes of material, but hooboy, a helluva gift for legerdemain. I look forward to seeing Dries deliver an act as compelling as his talent. —Mike Reynolds
Buy it at Amazon or Samhain Publishing.