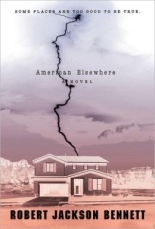 Perfect little American towns — with their ticky-tacky houses, the "little boxes all the same" — arouse as much scornful cynicism as idealization in American culture. We look with an almost gleeful cynicism to see the paint flake on the side of the house, to see tears make the mascara run, to discover domestic bliss revealed as dysfunction.
In some of the most compelling deconstructions of the American idyll, dysfunction erupts in full-blown horror. The coiffed lawn hides a severed ear; the gathering of townsfolk portends some dark ritual; a husband works on the family car, and his wife waits on him.
Of course she does. She is his wife, and this is what a wife does. She waits on her husband, helps him, serves him. She knows this. She's seen it. She knows what she must be.
The scene in the garage lingers, and lingers, and lingers; at any given moment, it is the picture of ordinary life, but Mrs. Elm's patient waiting — [s]he knows what she must be — pushes us to see not just the mask of the ordinary, so pervasive in these portraits of small-town America, but something more deeply perverse.
We learn that Mr. Elm drinks "can after can of warm Schlitz beer," never moving from underneath the vehicle so that "his pants and shirt and entire back become soaked with cold urine." Mrs. Elm stands in the doorway, a smile pasted on her face, blood pooling in the tight "red patent-leather heels" which constrain, chafe, cut into her skin. But the smile never cracks.
Robert Jackson Bennett's AMERICAN ELSEWHERE is a worthy addition to this strain of the American grotesque, where a sense of the impossibility of such "perfection" transforms into some deeper, more dizzying sense of horror.
Bennett slyly grafts elements from David Lynch and Neil Gaiman, Shirley Jackson and H.P. Lovecraft, and nearly half of this brick of a novel carefully parcels out disruptions like the nightmare in Elm house. He is a master of the slow reveal, and scene after scene knocks the reader back on her heels, slips away from what we expect. There's a real delight in how dark it gets behind the front doors in Bennett's small town of Wink, Ariz.
But the author also knows how to define a propulsive plot, zipping through town even as he explores every cul-de-sac. He sends outsider ex-cop Mona Bright into Wink, moving into a just-inherited property and tracing her mother's legacy in a top-secret laboratory on the mesa outside of town. Bright is a fine, fierce protagonist, and Bennett's strengths with character extend throughout the large cast.
Further, the author is as interested in empathy as in the grotesque, so that the emotional impact — as well as the dread attendant with the various goings-on — is heightened. I'm carefully avoiding any spoilers, as Bennett serves up a full menu of pleasures of the "what the–?" variety — but I found the ending a sneaky, rather brilliant return to the idealization of that small-town bliss.
Still, despite the mash-up of distinct ingredients, fans likely will recognize the meal, somewhere before the big reveal. AMERICAN ELSEWHERE isn't entirely elsewhere, and Bennett stands on the shoulders of other major scribes in this genre. But this strong novel continues to build his impressive body of work (favorably reviewed here at BOOKGASM by Slade Grayson).
It's a heckuva read, from a writer with tremendous skill and promise. —Mike Reynolds